Bellies full, we make our on the path to Kampung Tekek. It's a nice trek in the jungle along the coast, dotted with small deserted sandy coves. One is even for rent and could be the next trendy resort location.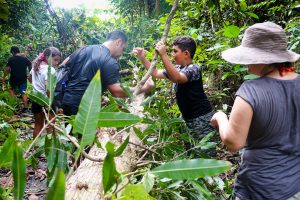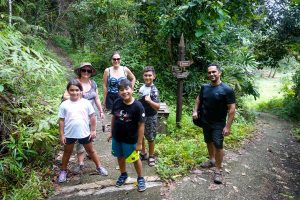 The village is very scenic with its colorful houses nestled at the foot of the "devils horns", the two spectacular peaks that tower over the settlement.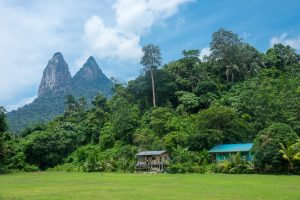 The people are going about their activities, repairing fishing gear, washing, preparing food… we past the deserted school, it seems to be vacation or a holiday maybe, and the Masjid and reach a fork were we are unsure of the way to the falls.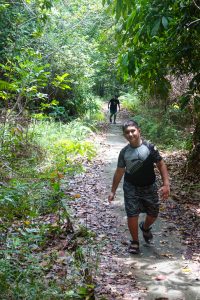 Arash asks a woman, it's really cool in Malaysia to be able to speak English. She has a good laugh, the homemade sigh to the falls has been blown by the wind and shows the wrong way. She puts us back on track and we start climbing to the falls on the concrete path and then stairs.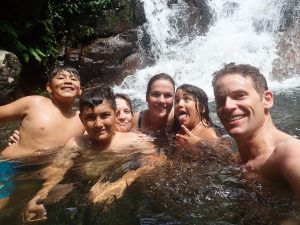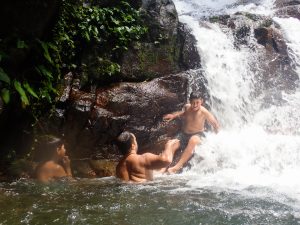 The site is really pleasant and we are very happy to plunge in the fresh water pool and seat under the shoal of water for a free and vigorous spa treatment.

Arash is set on taking a group picture with all of us in the water, and he comes up with the idea of doing a time laps with his phone. After taking a while to prop up the device in a convenient place, he joins us in the water and we carry on cavorting in the water, climbing the cliff and sitting under the fall.
On our way back from the blissful bath, Arash buys some munchies for the apéro at the little village store as the Legons have run out of nuts and crisps from the petrol station.
We decide to eat in a stilted restaurant overlooking the sea and aptly name the Sea View, for local food. We eat way better that at the hotel. Skye and Dragana go for the fish, prawns and rice. Ryo and Mila for some fried noodles and the rest enjoy a spicy tom yam noodle soup. It's a Muslim village so there is no alcohol on offer but the lime water is very refreshing.
We enjoy watching the locals: veiled mothers with swaddled babies hanging in a sling hooked on bungees to rock them to sleep. Young children playing happily. Men having lunch and feeding stray cats.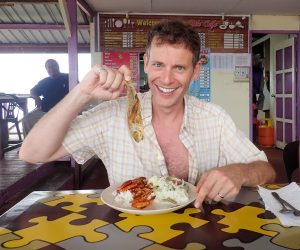 Back at the hotel we go snorkeling and get to see Nemo before tea.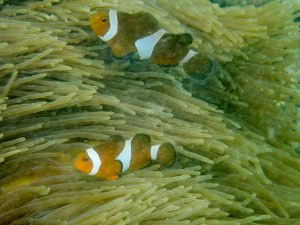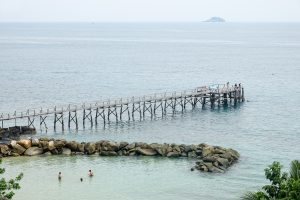 Tonight it's Indian buffet, and we sip our night caps mesmerized by a storm on our cove.