From the vantage point of our wonderful terrace, we have a great time birdwatching and watching the sunrise before an excellent breakfast of omelette and arepas de queso.
We set off to walk el Camino Real, between Barichara and Guane. It's an historical trail that sends you back in history. From Barichara, walk down to the domains of the Chief Guanentá, cradle of the Guane culture, in pre-Columbian times. El Camino Real, as known today dates back to 1867, when the German Geo Von Lengerke decided to pave the usual trail used by the indigenes, to make it passable in winter times and facilitate the flow of goods between different regions.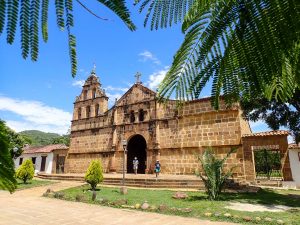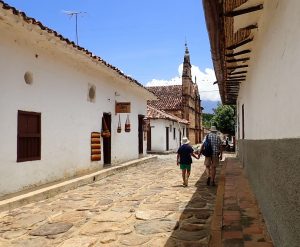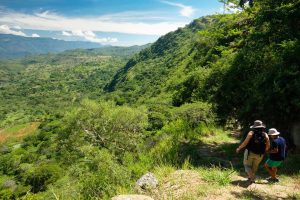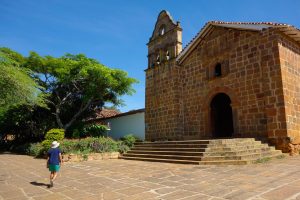 Monday through Friday, the road is mainly used by children who attend the school in Barichara or Guane and peasants from the fincas dotting the landscape between the villages.
At the end of the 19th century it was crossed on the back of a mule and Guane was at the crossroads to Los Santos, Bucaramanga, Zapatoca, San Vicente de Chucurí, Barrancabermeja and Puerto Wilches and also connected Bogotá and the Boyaca region in the south.
The government of the time, would pay tolls to Lengerke in exchange for his services, the alm was collected at the bridges. The sum was fixed according to the weight, the number of mules and products carried.
Back in those days, these roads were full of life, lined with Inns that offered food and shelter to travelers and their animals.
With the passage of time, many of these routes have been lost and absorbed into private estates. But some have survived, and although they do not bear the economic relevance of those times, they remain important for the inhabitants of the region and offer a great opportunity for visitors to enjoy the gorgeous nature of the Andes and a feeling of the past.
The walk is hot but beautiful. We reach the tiny sleepy pueblito of Guane, a mini Barichara, also undergoing a gentrification. We are invited to poke our nose by the owner of a brand new and really beautiful boutique hotel.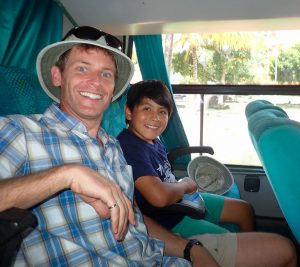 After a copious traditional lunch at one of the restaurant on the central square, surrounded by cats and dogs, we take the bus back up to Barichara for a much needed shower.
We laze the rest of the afternoon on our superb veranda, in the hummocks. As usual we buy beers and crisps for the apero, but this time we drink it at one of the miradores, to watch the sun set over the impressive valley.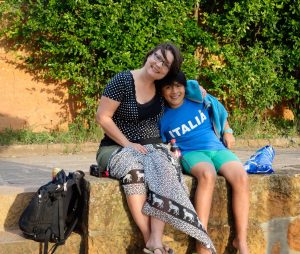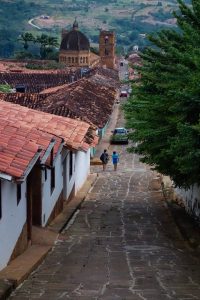 On our way back we cross road with a bunch of kids on racing bikes.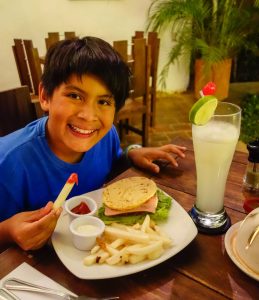 People here really like cycling, Ryo even spots some cycling trophies through a window. We end up the day enjoying cocktails and dinner at Igua nauno.