We take our time for another delicious breakfast at the hotel, waiting for someone from Mussallem's team (the guys we went to the dunes with) to show up with some camping equipment. By 10 o'clock, we decide to call and discover we have to pick up the gear ourselves in Salalah.
We head to Mussallem's guesthouse Arabian Villas in Salalah, and find the place totally bohemian, and totally empty. There's no one around we call a number for reception (how much is a roaming call to Oman?). Someone will come! we are assured, but time passes and we start to despair a little when all of a sudden Mussallem number 2, our super guide from the Empty Quarter arrives. After Skye couldn't install the Open Street Maps application yesterday (not enough room on the phone), instead of deleting his million photos he went and bought a new phone! Skye has his hands full trying to navigate a smartphone in Arabic (the download bar goes from right to left, cool!) and has to get Mussallem to switch the phone to English temporarily. Two Indian guys appear and join Mussallem to collect some stuff. But even with this extended team, it takes a long time to gather the necessities in the maze of the villas, and they can only lend out things they won't need right away.
So finally, we end up with a car full of mattresses, sheets, covers, a portable stove, a pot, a kettle, dishes and mugs and a large Bedouin mat.
Next stop: Shopping for food. Relying on the magic of Open Street Maps we successfully find a cool supermarket with absolutely everything we need including extra gas canisters for the stove and a barbecue grill. Food for 3 for a whole day and extras for just over 35 bucks. Cheaper than a bottle of wine at the hotel. No wine at the supermarket though, we're going Bedouin all the way, baby.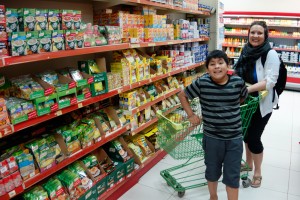 After all that, it's past noon and we have a very long drive to our destination. We are actually a bit nervous as the app's ETA has us arriving after sunset which isn't great if you have to set up a camp and cook in the wilderness. Google is more optimistic, so we hope we can make in time and set off for our 300 km drive along the Arabian sea eastwards from Salalah.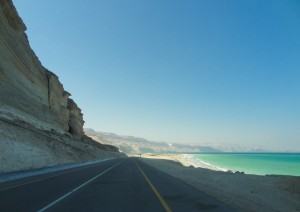 The scenery gets more amazing the further we drive from the plains of Salalah, with on our left the looming cliffs of the Jebel Saman and on our right the sea. Lots of work is taking place to build a new road and we are on and off the new road several times on twisty detours. We then reach the town of Hasik and the Jebel turns from ocre to white limestone. It's very beautiful, and shortly afterwards we reach a brand new absolutely spectacular road which climbs up onto the plateau through crazy trenches carved in the limestone. From up top we discover a Grand Canyon like scenery with an ocean backdrop. The plateau itself is extremely bare and austere. We stop at a view point and are followed shortly after by an Omani guy who shakes our hands to say hello and we have a friendly chat. It's funny to meet someone here, it's so empty, and we've only seen a couple of cars in over an hour since leaving Hasik.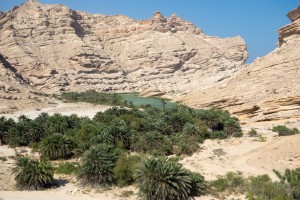 After coming back down from the plateau we have another stretch of coastal route until the Wadi. The beaches seem deserted and there are no settlements, but here and there we spot herds of camels, often in the middle of the roads. Omani driving etiquette is to put on your hazards when you spot camels on the road, and flash people coming the other way to warn them. Oddly enough, in the middle of nowhere we suddenly spot a Star Wars Tatooine-like dwelling in the sands by the sea. Apparently it's an eco-resort project that doesn't seem to have come to full fruition.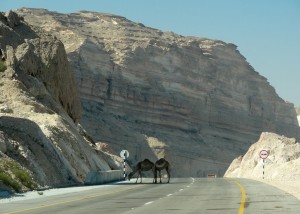 Finally, we reach Ash Shuwaymiyah and leave the paved road to plunge into the Wadi. We stop at a first pool with a picnic area that has seen better days. The site is obviously used by the locals to water the camels and it's not true nature as we want it, so we plunge further in the wadi. We reach the end of the track at the head of the valley; it's quite windy and the sun has already disappeared behind the mountains, so we decide to drive back a little. We find a super camping spot down down in the wadi, with some trees and a soft sandy patch for the tents and we to set up a very nice camp for the night.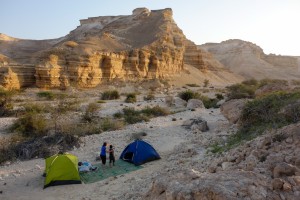 Tents are up, beds are made, the fire is ready and Sandra is cooking a pot of rice with tomatoes, chick peas and Omani masala spices while Skye starts grilling some shish kebabs on the grill we bought. We eat this delicious dinner at sunset in this stunning setting. We throw some incense from Mussallem into the fire and finish dinner with tea and dates under the stars, Bedouin style. It's absolutely idyllic.