In the early morning, it is still dark and the air and the sand have turned fresh. Skye is trying some moonlight shots. Then Aubid points us off in a direction for a good view of the sunrise and we set off while he makes his ablutions for the morning prayer.
The wind has dropped and we enjoy a beautiful and peaceful sunrise snapping too many pictures. Ryo joins us on our way back to tell us that breakfast is ready.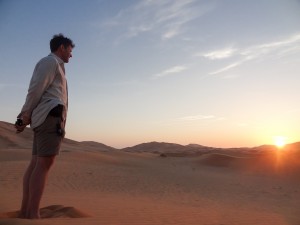 We put away our mattress and eat flat breads with honey and dates, hard boiled eggs and bananas. The German delegation is spending one more night in the dunes with Aubid. So we say goodbye and head back to Salalah with Mussallem. Before coming back to the dune we drive a bit in the sands and pass by a dead camel. It's only dried skin and white bones but in the heat of the desert this mummy-like camel has been here for over six years now. We emerge from the dunes into a big flat sand pan bordered by a village that was built by the government: prospectors drilled for oil back in the 60s and didn't strike oil, but did hit a hot spring that is still gushing sulfurous water to this day, fine for watering camels (and your lumbago, apparently). The town seems pretty empty as the Bedouins prefer to sleep in self-made shacks as they don't feel comfortable in their free government-appointed houses.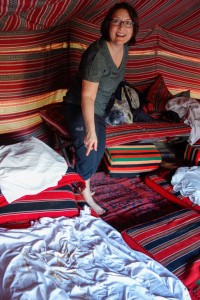 While Mussallem busies himself with the compressor to pump up the tires for the tarmac again, we amuse ourselves collecting geodes. These spherical concretions of minerals are scattered all around the flat pan. When you break one, it's hollow and lined with white crystals inside. Skye and Ryo start a game of pétanque, using a small geode as cochonnet. It's fun, but they have to stop when a little desert lizard runs into their games and perches himself on one of the improvised boules.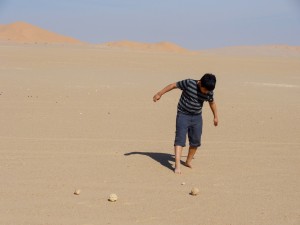 We hop back in our reinflated car and pass by the oasis, checking out the black camels and dipping our hands in the hot springs.
We then retrace our steps from yesterday. After the night's sandstorm, the track is covered with considerably more sand drifts than the day before, and Mussallem passes each obstacle with his hair-raising driving style. The wind that started to blow again after sunrise is lifting mini sandstorms on our way. In Thumrait, Mussallem invites us for lunch at his house in what he calls the stony desert. He takes a shortcut through a pleasant wadi bordered by cone shaped hills and dotted with acacia shaped trees and grazing camels.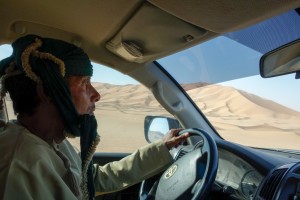 We reach his house: it's very new, really big and the enclosure protects a pleasant garden with a frankincense tree and a garden house with tent-like ceiling facing a grill for nice evening barbecues, Bedouin-style.
The reception room is enormous and we count that the sofa that runs all around the room can host 30 people comfortably. There is a huge picture of the Khareef (fog rolling in over the mountains) and a picture of the Koran, nothing else. The sofa upholstery matches the coffee tables and the curtains, and a big carpet completes the decor. It's fascinating to see that unlike in western rooms, there are no knickknacks, trinkets or other ornaments scattered all over the place. Omani reception rooms are basically a hard-top version of the big reception tent the tribes set up in the desert, and baubles are of no use to nomads.
Mussallem changes into a new dishdasha (full-length robe) and offers Skye a dishdasha too, as well as a thobe and veil for Sandra as a present to bring back home. We are pleased to try our new Omani attire on the spot, and just need to buy a headdress for Skye to complete the costume! Afterwards Mussallem brings us Omani tea and then lays a sheet of plastic on the carpet for us to eat. He serves us a huge platter of rice and spiced chicken and vegetables, another platter of salad and dates and explains to us how to eat with our hands. It's really not easy with the rice and sauce but the food is delicious and we manage to eat as much as possible of the enormous serving that he brought just for our family, explaining that often the guests are served in the reception room while the family eats in another room. Mussallem has five children: his older kids are on vacation and are sleeping in, and the younger kids are at school. His wife teaches at the village school and arrives home just after our meal.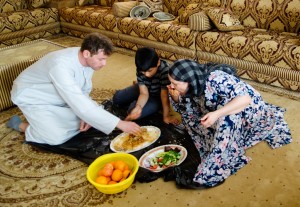 We ask Mussallem at what time they usually have breakfast, lunch, dinner… he laughs and says that they don't care for breakfast: they usually just have a cup of tea, and actually they don't have planned meals in general. It's open house pretty much everywhere in the village which is inhabited by his extended family and members of his tribe: everyone is welcome in every house and if people happen to be eating when you visit, you just eat along.
Also he explains that there is always extra food to accommodate visitors who don't need to be announced. It's a legacy of the nomad life and a very efficient survival system in the desert: you share everything you have in the moment, inch'allah, in the future if you are in need someone will share with you. He says it is not rare for a Bedouin to go sell a camel to buy rice and sugar, and return back home with nothing because he met people in need on his way and gave them his food.
This absolute law of hospitality and sharing is described in "Arabian Sands", the account of British adventurer Wilfried Thesiger's crossing of the Empty Quarter with the Bedouins. It's a very powerful lesson for us generally self-centred westerners. We are very impressed by how strongly these ways are still engrained in the culture despite the impressive transformation and modernization of the country initiated by Sultan Qaboos.
Mussallem tells us about growing up between the mountain and the rocky desert, following the water and pastures for their camels. As a kid (in the 70s!) he did not have a house: they moved from cave to cave, and there was no healthcare, few schools. Now the family is doing very well by organizing tours in the Empty Quarter.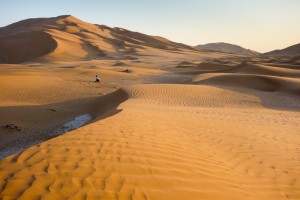 In the final leg of our journey back to Salalah, Mussallem tells us about a government-financed program he participated in with some of his friends, spending two months in Tours, France in a family to learn French.
He has lots of anecdotes. Once he was stopped for stealing: he bought something inexpensive in a large department store and didn't keep the receipt, then wandered back in again further down the street thinking it was a different shop. Shop security pounced on him and detained him for ages until he could explain himself to the management, and after finding the purchase in their computer records they let him go, with a box of chocolates for his trouble!
One of his stories illustrates the tribal custom of generosity quite well. On the journey back to Oman, while waiting in the Paris airport one of the girls was crying because her reservation couldn't be found. Mussallem and his friends tried to sort things out, and with time running out for their own flight gave the girl all the money they had left knowing that somehow, somewhere, someone would repay them this kindness should they find themselves in need, inch'Allah!
Mussallem wants the same Android map application Skye has on his smartphone for navigating in Oman. In the lobby of the Juweira Skye tries to install it on Mussallem's phone but there is not enough room, so Mussallem says he will try by himself or perhaps come back to us in the coming days.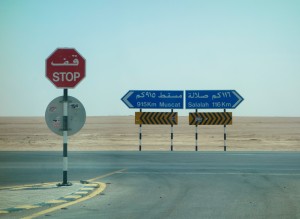 After this amazing adventure, we appreciate the luxury of a hot shower. Sandra washes the clothes we were wearing in the sink. We chill out in the room: Sandra writes the log about our last two days, Skye downloads and sorts through the pictures and Ryo is delighted to have access to a screen again: we did not bring his tablet and Nintendo in the desert so he had to read his books several times over during the trip!
We carry on our work down at the pool bar while Ryo swims amidst Omani kids. Ryo has to change to go to the restaurant and we note that reception has called us several times. The car rental agency is here with the 4WD we are going to use for exploring the countryside over the next 3 days.
For dinner we decide to try the beach restaurant at the Rotana, we enjoy the catch of the day and some cocktails as they are much more affordable than drinking wine. We plan the trip for tomorrow, east of Salalah, and mark all the sights along the coastal road in Skye's application. Tomorrow: off to Wadi Shuwaymiyah for another night of camping, this time on our own!