Skye and Sandra are up earlier than the rest of the gang and are without kid since Ryo has elected to sleep in Luka and Mila's room. They go to explore the surroundings of the hotel. Sandra who has been fascinated by a species of mimosa that retracts when you touch it in Kew Gardens is all excited to discover the same plant in the wilderness. We are shouted at by a couple of monkeys who obviously don't want us here.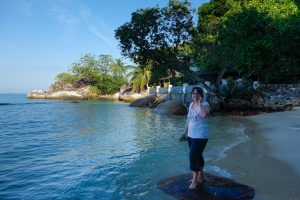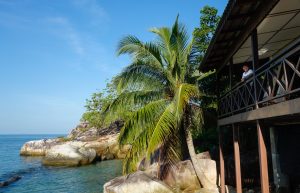 Everyone starts trickling down to the restaurant for breakfast were we discover we can order pancakes or eggs. Arash asks for 3 fried eggs and his rebuked by the waitress as each guest can only have two each, maximum. Funny!
The sea is beckoning us, so we borrow some material and go for a morning snorkeling session. The reef is pretty with lots of interesting fish. Ryo and Skye also see a turtle and Dragana explains that they saw a manta ray yesterday. Next we build sandcastles and relax under a nut tree were an endemic squirrel is having his meal. It's a lot of fun to observe him, but we have to dodge his unfinished nuts and crumbs as he liberally sprinkles us with his leftovers.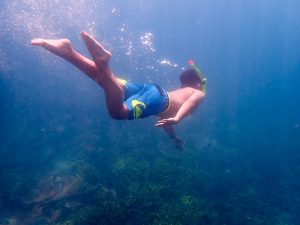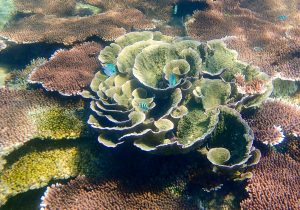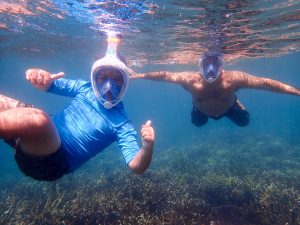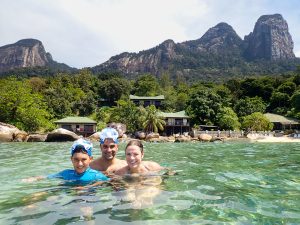 We have lunch at the hotel were kids take occidental food and adults stick to the Asian selection with not so good noodles for Dragana and Sandra.  Luka manages to negotiate a banana boat to share for desert.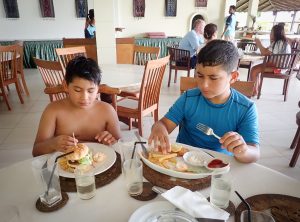 Luka then gets the 7 Wonders game, and the all family starts to explain the complicated game rules as we go for an open hand round. One game is supposed to last 30 minutes, but we take almost two hours to complete the three stages. It's fun, you have to be a good strategist an make the right choices. Arash is the winner.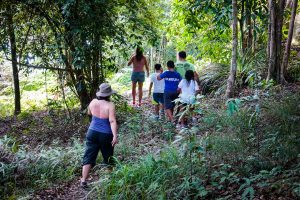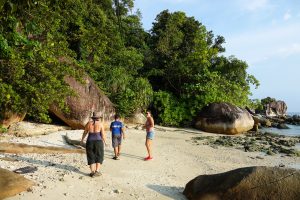 Then we decide to explore the resorts that are north of us along the coast. We find a path to the Tuna Maya. There is a nice small resort all built with wood and then the larger Tuna Maya. We try to get on their jungle trek to a view point but it's already five and they discourage going up at this late hour, so we head back to the Minang Cove for the tea cake, more snorkeling and the apéro.
Dinner is a Malaysian buffet, not too spectacular, but the kids are happy to be served a mini banana boat for desert.