Skye has set the alarm early to go back to the hide while Ryo is sleeping. We enjoy dawn. The birds take a while but after walking the swamp path again and climb back on the observatory. Our patience has paid off, there are wild pigs, monkeys, parakeets, wonderful black and blue birds, a large pheasant like bird now.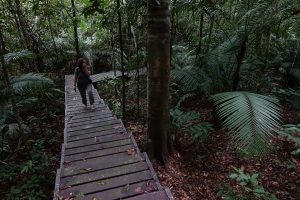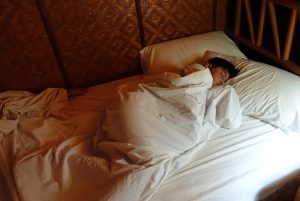 After a copious breakfast, as instructed by our driver, we cross the river and embark in our bus for a very long drive.  We have a apprentice driver on board this time. There is more palm plantations on this stretch, and the roads are mostly secondary roads which are bumpy in comparison to the highways.
We cross more gigantic expanses of palm fields and mountains that have been plucked clean of their jungle and are bulldozed into terraces and dotted with small palm trees.
We don't want to stop too long for lunch to arrive on time for the ferry, so we stock up on food at a gas station.
Skye starts to select crisps and nuts, but Sandra is hunting for something more close to a real lunch and finds that there are excellent snacks at the other end of the store. We take steamed dumplings filled with curry in a heated oven, there is a funny machine that delivers mashed potatoes with gravy. There is also a station were you can make your own waffles or you can choose from a vast array of extravagant cakes or grab a fruit bowl.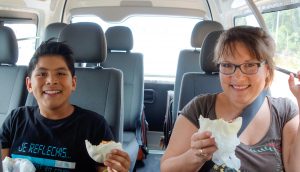 We sagely take some fruits, but also a palm oil based Kit-Kat chocolate, hence contributing to the deforestation.
In the bus, we eat our dumplings and try some crisps with peanuts and tiny dried fish. Before too long we reach the Tankung Gemok Jetty and part with our driver.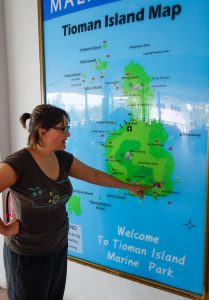 We collect our ferry tickets by showing our reservation on Sandra's computer screen, which gives the all ticket office people a good laugh. Then we have to pay the park entrance fee an wait for the embarkment. There are a lot of cats in the terminal, a kitten as elected some guy's luggage for his nap.
The ferry crossing takes quite a while, the sky is gray and some sprays from the surf cover the windows. With the air conditioning, it really feels like we are off the coast of Ireland rather than under the tropics. But when we disembark it's hot alright!!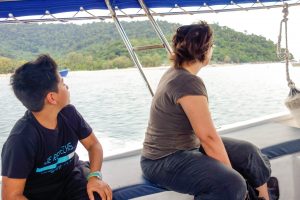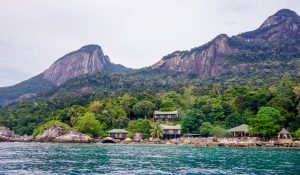 A small speed boat is here to collect us with another couple from Geneva, the young guy is from Malaysia. As we arrive to our resort, the Minang Cove, we immediately spot the Razzaghis on the balcony of their sea view villa.
While we are welcomed by the staff with a glass of iced tea and some doughnuts, they come down to meet us. We then go to refresh ourselves and meet up for drinks and the kids are happy to be together again and start a game.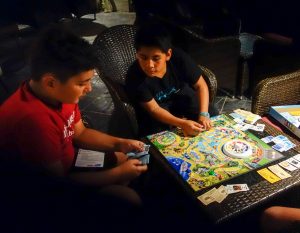 Tonight is barbecue night and the buffet is nice, with fresh grilled squids, fish chicken and beef and a lot of cool and spicy sauces to taste. We have met our match, our friends love their food, and the three kids tuck in the buffet with gusto! The adults also like their drinks, and Arash is imprinting quite a strong rhythm. He even gets us to finish with fortified coffees. We end up being thirsty and slightly dehydrated in the middle of the night.