Breakfast is a copious affair, then Dragana takes Skye and Sandra to discover the fancy houses around their place. The prices she articulates are crazy, worse than Switzerland. The styles are incredibly varied, from elegant modern designer houses to kitsch renaissance mansion. We see helps walking dogs, sweeping the pavement, working in landscaped gardens…
At 9:30 our van is here and our friends see us off to Malaysia were we will meet them again in a few days on Tioman island.
Right before the border, some posters require Singaporean vehicles that they are not allowed to cross if they don't have at least 2/3 full petrol tanks, it's obviously much cheaper to fill the car in Malaysia!
There are two border crossings to Malaysia from Singapore. One is called the first link, to Johor and is very busy. Our driver chooses to take the less crowded second link. We check out of Singapore, cross a bridge and check in Malaysia never living the car as we present the passport in booth similar to toll booth, and we just slide the van door open so that the agent can check the back seats occupants.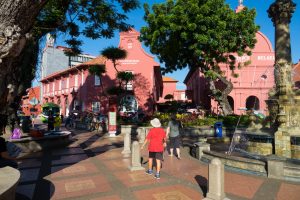 The highway to Melaka is curtained by palm plantations and big billboards advertising all sorts of consumers goods and services written in English, Malay which uses latin alphabet and sometimes there is Chinese, Tamil and Arabic too. The advertisements also tell of the Muslim background of the country, with veiled ladies, advertisement for Haji trips to Mecca, or of Madrassa schools.
Still jet-lagged we don't take long to fall asleep until we hit Melaka around one o'clock. The city has a very pleasant historic center were our driver drops us off. We stay in a boutique hotel in a Chinese old house. It's really typical and perfectly situated. A Chinese lady who seems to be the manager gives us directions to the nearest bank so we can get some Ringgits for our stay. We stroll the old streets and reach the Dutch square with its pink building and church next to which is the bank.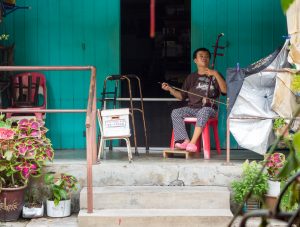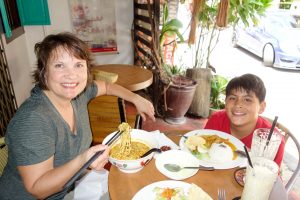 Now it's time to find a restaurant. Calanthe Art Cafe seems nice and there is a smiling young blind man playing the eru just in front of the lush veranda. We order local food and enjoy a tasteful meal. Sandra has a laksa, a sort of Malaysian spicy soup with dumplings, noodles and fried chicken. Skye a fish curry and Ryo an Indian butter chicken. Our musician is successful as none of the restaurant guests would leave without giving a small donation.
We return at the hotel to settle in our room and refresh ourselves before exploring the town starting with St. Paul's Hill & Church, a Portuguese Church on the hill overlooking the city, to the A Famosa Fort remainder of a castle established by the Portuguese, then the Jonker Street walk with its Chinese temples the old mosque a stone throw from a Tamil temple.  Malaysia is really a fabulous melting pot.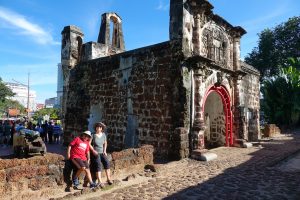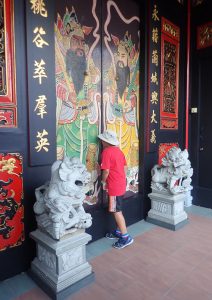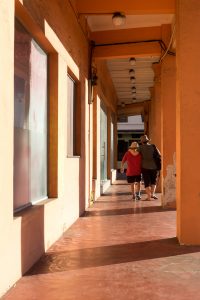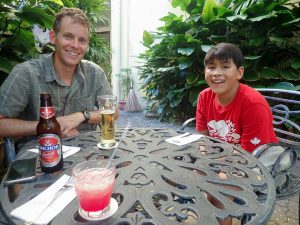 After an apéro with satay (as recommended by Luka!!) in the courtyard of our hotel, we go to the River view Café, a pleasant restaurant along the canal. It's a lot of fun watching the little touris
t boats float by as well as bikers and joggers while eating a kampung fried rice. The atmosphere is very pleasant, and we walk back along the canal and discover hostels, bars and also a fabulous colonial style hotel on our walk back.