After arepas and eggs, we are collected by our guide Milton together with the same companions as yesterday. The boat takes us further up the river, to meet jeeps that take us inland.
During the jeep trip we get to discuss with Fernanda, and learn that she is working as a doctor, so she was prompt to ask if the village had a clinic. In fact they have no doctor at all, so if ever someone is real ill, they have to go to Villavicencio, were the nearest hospital is. Recently someone was sick and was taken in one of the little planes, but it crashed before reaching the city!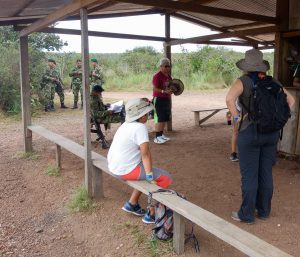 If you can't take a plane, the way to Villavicencio is a dirt track, built by the FARCs. By bike you can manage to make it in 10 hours, by 4×4 it takes usually up to 2 days, negotiating potholes and mud patches. We are really in the middle of nowhere.
Fernanda also tells us that when she was about 10, her family was travelling by car between Villavicencio and Bogota, and they got stopped by the FARC with a bunch of other vehicles. The guerilla were looking for 4×4 for their use in the jungle, and for wealthy people for randsom. They were into custody during 4 hours and all of a sudden the paramilitary came and they started shooting at the FARCS and the poor civilians were caught in the crossfire. Fernanda's family was really lucky because both cars in front and behind them got shot put they escaped from the mayhem unscathed but pretty shocked.
Again we walk on the dry plateau before dipping in true jungle and reaching the caño cristales. We visit several spots with scenic read plants, bathe in a cascade, and then reach a very big pool in a truly wonderful setting were we have lunch and spend time swimming.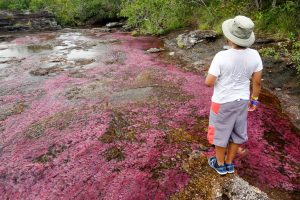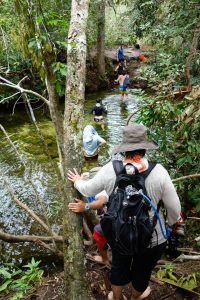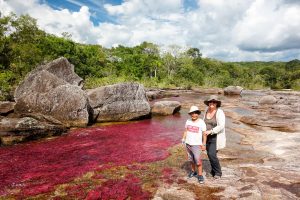 Back at the hotel, we witness again the remoteness of the town as there is a power outage and they had to fire the old generator that sits next to our room. No siesta with this noise and smell! We retreat to the bar next door. Sandra would like to toast to her birthday with a cocktail, but Skye think they won't have any. In fact they have a menu with an extensive list! Sandra takes a strawberry daiquiri, Ryo a maracuja frappe and Skye tries the local alcohol with an aguardiente cocktail. We go for a walk in the little town, hopping that when we return, the power line will be working again.
It's not the case, so we bite the bullet and go to our room, and pretty soon we are relieved, the generator stops and we have power, we can relax before dinner at our hotel.
Skye did a great job to mark the occasion, he managed to escape a moment to organize a cake and a bottle of white wine for dinner. It's really funny because the lady brings the cake without sticking and lighting the candle on it, so she comes back a moment later with a lighter and sticks the candle upside down! Of course the cake is too much for just the three of us, so Sandra manages to explain that we would like to share it with the staff, the lady once she understood the idea seems very pleased!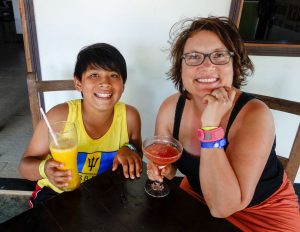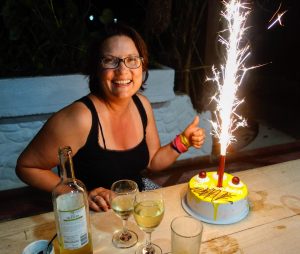 We then finish our bottle of wine on our veranda in the warm night, what an originial birthday, It was a lot of fun!