We were surprised yesterday when Milton told us we were going to wander again in the morning and that we had plenty of time before our flight which was not to be the one on our itinerary, but not to worry!
So we set up with our usual party as well as Milton's "Compañero" guide Daniel who is leading a group of French from Saint Etienne. We are relieved to learn that they are also going back today and that we will be getting out of the forest with this group to go back to la Macarena in time for lunch and a flight, whatever it is.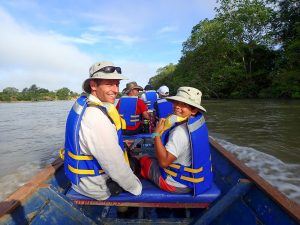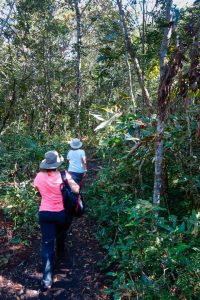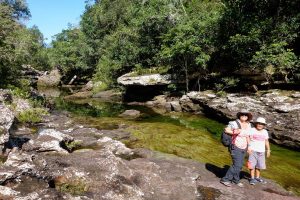 The walk is in a shadier part of the river, tucked in the jungle, so the Macarena Clavigae is not red but green as it gets less light. Again there is a big pool were we swim with delight in the refreshing water. Ryo spots a bat, there are a lots of pretty river fishes, and it's fun to jump from the rocks in the clear water.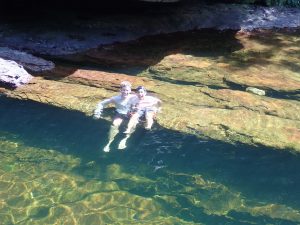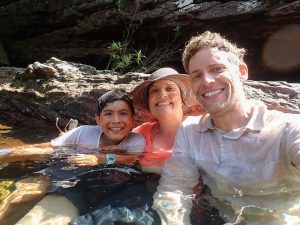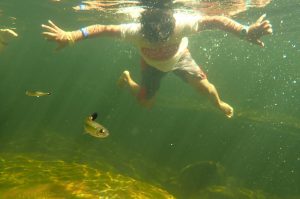 We are glad we could go in the forest again. After lunch we are all ferried to the tiny Macarena airport with our French compañeros, they end up taking a Cesna back to Villavicencio, while we bord a bigger plane (16 seats!) heading directly to Bogota.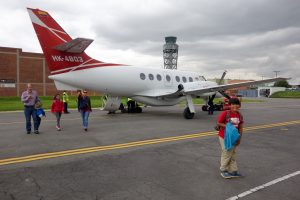 We arrive in a totally remote corner of the airport not at all at the time planned in our itinerary so we have to call the agency because the bus dropped us at the international arrivals.
Once united with our driver, he takes us to Hotel Casa Deco were we relax with an apéro on their rooftop terrace before going for a second apéro in a trendy cocktail bar and eating excellent food at Capital Cocina y Café in la Candelaria.