Sunrise and breakfast at 3am (European time) after an uncomfortable and short night in the plane! The airport is very quiet and we get through quickly since Sandra had already bought our visas online. We grab our bags and meet up with Majid who drives us straight away to the Al Falaj Hotel.
Muscat's low buildings with arabesques and latticework in muted colors blend with the ochre of the Omani mountains. The city spreads along the coast of the Indian Ocean. The men wear long white Dishdasha robes and a head dress, the women pretty robes and elegantly draped veils. There are also a lot of Indians with Salwar Kamiz. It's very exotic.
Surprisingly we don't have to wait too long for our room and after a quick change Majid takes us on a tour of the capital.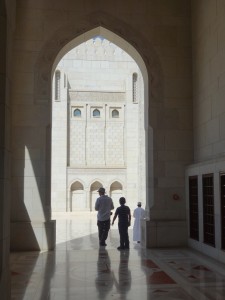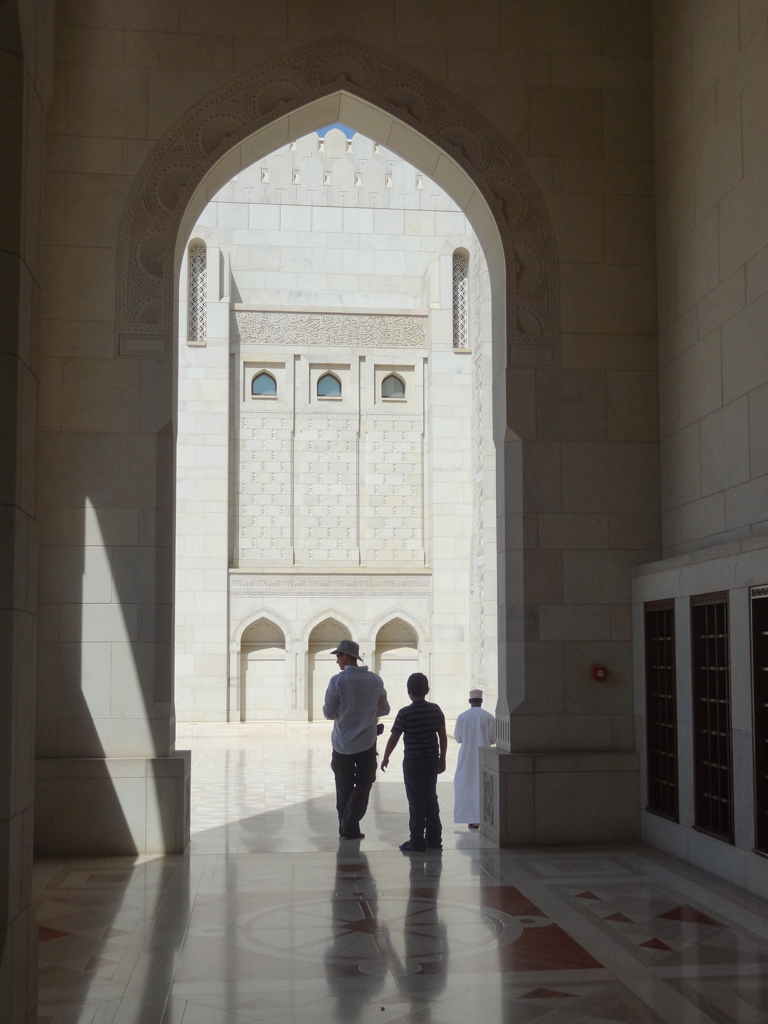 We start with the Royal Opera. Sultan Qaboos, the ruler of Oman has commissioned an impressive building to host performances of national and international artists. The next stop is at the Grand Mosque. It's really gorgeous, modern on the outside, traditional and ornate on the inside with amazing chandeliers and carpets. We then wander through the very traditional fish market with a wide variety of strange creatures of the deep. A huge modern hall is under construction, so this old-fashioned market is doomed to disappear, such is progress!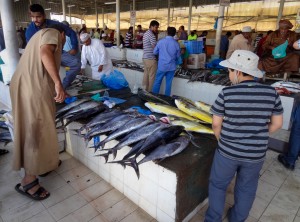 We then get lost in the winding lanes of the Muttarah souk before walking back along the corniche, admiring the Sultan's two gigantic private yachts. We have a little chat with a friendly old Omani chap before driving on to the Sultan's palace. We visit the Al Zubair Museum which boasts a pretty collection of artefacts of Omani culture. We enjoy the old maps of Arabia and ancient coins in a variety of unusual shapes: squares, diamonds, and even scalloped!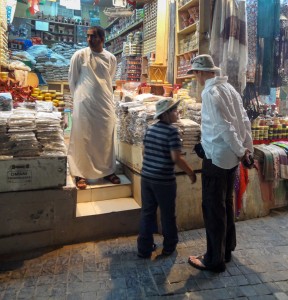 Completely knackered after all these sights, Majid drops us off at the hotel around one o'clock. Still out of synch we don't feel like eating lunch and head straight to bed for a big nap. After a shower, we take a very tired Ryo to the pool who suddenly perks up again once he's in his aquatic element. Sandra & Skye chill out by the pool; it's very relaxing.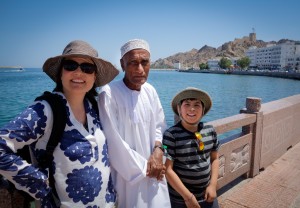 We then decide to stay at the hotel for dinner. There is a oriental mixed grill on Saturday nights. We sit down by the pool sampling tasty mezzes, kofta and spicy chicken kebab washed down by a Chilean Merlot. Oman is not a completely dry country and foreigners can enjoy their drinks in some hotels and restaurants. It's a nice meal and it's fun to see the Indian guests enjoying the pool en masse. Some ladies are even taking swimming lessons wearing full-coverage "burquinis" for modesty.
Time to hit the hay, we have a very early start tomorrow. Up at 4 for our flight to Salalah at 7!