Maricel has prepared a delicious breakfast again, this time there is a big pancake with a special nuts and grains flour mix, very tasty. Dragana organizes transport passes for everyone, and leaves for a meeting at Dell while we head to the park with the three kids.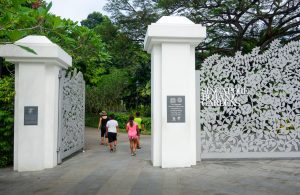 It's an amazing park really! We discover a canopy boardwalk, and Skye gets the kids to start looking for birds promising extra satays at lunch for those pointing new specimens. And sure enough we get to see some new birds, including the Singaporean national bird, the crimson sunbird.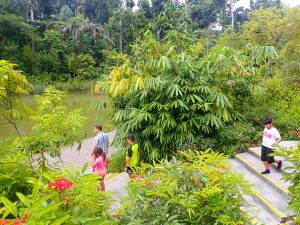 From the marsh path to the jungle path, along waterfalls, ponds with giant lilies, we are in awe of the work done here, everything is exquisite. We manage to enter the orchid garden after finding a way to get cash at the souvenir shop to pay the entrance were you can't pay by credit cards. Here you can see a staggering variety of orchid hybrids, some are created for celebrities. Last night Dragana walked us to the scientific facilities, we got to see a lab were flower tissues are swirled in test tubes.