After a last breakfast of eggs and white arepas at our favorite table on our terrace at the Wassiki, we pack up to get back to Bogota. Jesus is punctual and collects us at 8 o'clock, with plenty of time for the drive to Bucaramanga were our plane is scheduled for 3 pm.
Again the landscape changes with the altitude, the nooks and crannies of the mountains, and we reach the second largest caynon of the continent after the Grand Canyon, the valley of the Chicamocha river. It is a dry landscape contrasting with the San Gil area. We reach the Parque Nacional de Chicamocha and Jesus offers to let us ride the cable car and pick us up at the other side of the valley.
Since it wasn't planned, he calls the agency, there is a surcharge for the detour he has to make to reach the other rim, but the agency kindly offers to pick that up, so off we go.
Before embarking on the cabins, we wander about the park, there is a gigantic bronze monument, a museum about the Guane Indians and shamanism and it's possible to do bungee jumping too. We have bought two packets of "hormiga culones" on the road, it is time for the boys to taste them. They don't recoil et manage to munch two each of these big fat salted ants with gusto. It's good, but has a bit of a dusty after taste, Skye explains, it would work better with a beer!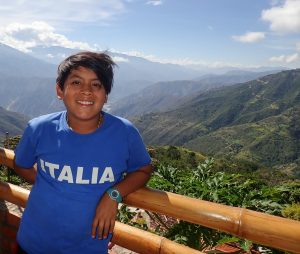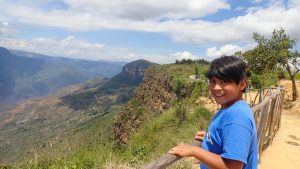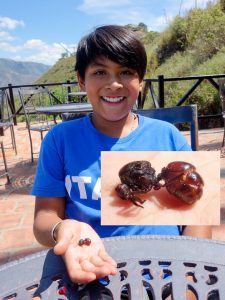 The cable car ride is fascinating, we are in a very dry environment with forests of cactus, the slopes are netted with lots of little trails leading to scattered rather simple farms growing pineapples, and no roads, in the middle of the mountain a small building that appear to be the local school.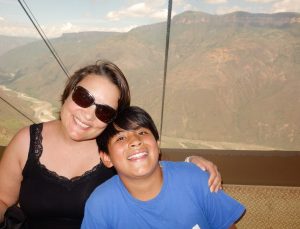 At the top of the mountain we reach lush climate and opulence again. It's the Los Santos Messa were the wealthy Bucaramanga citizen have their week-end cabaña. And despite being called like that, in fact they are lovely full blown country houses nested between coffee and banana tree growth, it's a real contrast with the slope we just zipped over.
Jesus arrives just in time and on the last leg of our Journey to Bucaramanga, we stop for a cheese arepa by the side of the road. The lady who prepares them is very chatty and gives us a stern benediction with our maize crepes served on banana leaves.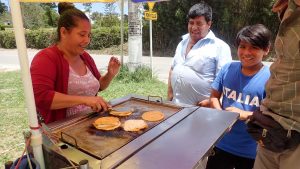 The Bucaramanga airport is perched high up on another plateau, we take some perros calientes (hot dogs) and wrap ourselves in warmer clothes to brace ourselves for the colder Bogota climate.
A driver brings us to la Canderlaria, where we get to discover a new place. Hotel Casa Deco is really nice, we have a big room.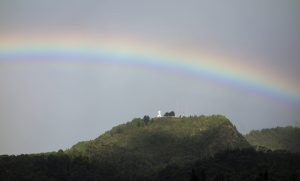 We won't spend much time here tonight because we are off to visit Sophie, who is looking forward to seeing Ryo after 11 years. She is still helping parents with adoptions but they are few and very far between, so she also organizes family reunions for adopted children.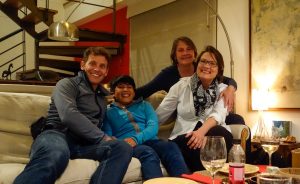 We reach her apartment by way of Uber, she has not changed at all and we have a very nice apéro were she dishes out all the French and Swiss delicacies she received from her latest European visitors. She has an excellent bread from a French expat who imports his own flour, and we are treated to foie gras, Roquefort, Gruyère and olives, washed down with two bottles of Chardonnay. Ryo gets to try a Colombian white cheese served with blackberry coulis.
We have a great time and exchange impressions on our latest trip in Colombia. Sophie was with a French family to visit the Colombian family of their now grown up teenagers.
A nice Uber guy drives us back and we promptly get to bed because tomorrow we have to wake up at 4.00!