Esperanza has sent us a message that her parents are expecting us around noon at their printing company and are inviting us for lunch.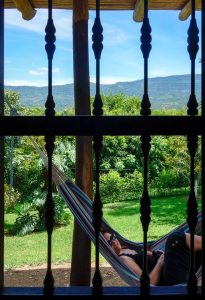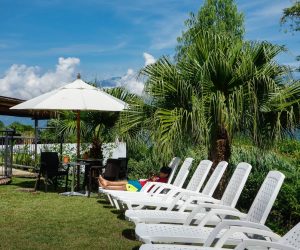 We have a quiet morning enjoying the great weather on our veranda and by the pool before taking the bus for San Gil.
Esperanza's mother welcomes us very kindly in the shop and we manage to communicate relatively well. At noon Jose Luis, her father gets his truck and drives us to a local traditional restaurant where they treat us to a tasty and copious local meal. Skye is very pleased to taste the goat dish as it is the delicacy of the region.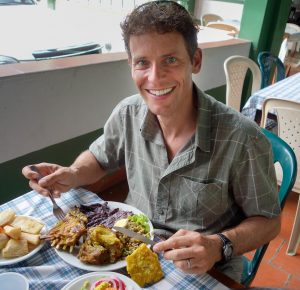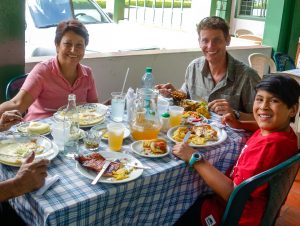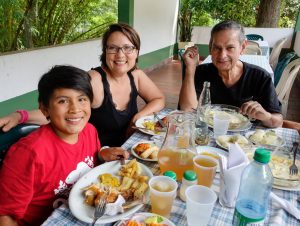 After lunch, they drive to Soccoro for their traditional Sunday family visit while we embark on the bus for Chacala to visit the cascades Juan Curi. It's not close and we go by an impressive landslide. Esperanza's mother had told us that it rained heavily two weeks ago, there was also a landslide at the restaurant that wiped the plot adjacent to a recently built hotel!
The cascade is privately managed so you pay an entry fee, but then the path up to the pool at the bottom of the cataract is well kept and clean. The setting is really beautiful in a dense jungle. We have fun climbing rocks and crossing the rapids clinging to ropes.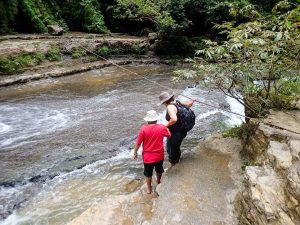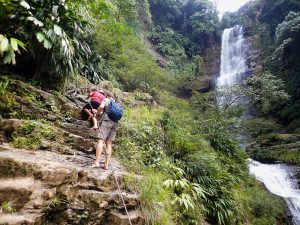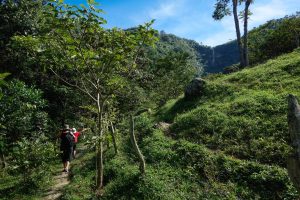 It's Sunday so there are quite a few locals enjoying the place, but it's already late so we end up being the last one on the spot, save for the keeper who empties the garbage cans on the way and some crazy guys lower on the cascade, bathing in a not to safe area.
We wait quite a while for our bus, a bit worried that it will be to full like on our way in were some passengers couldn't board. But it's a bigger bus with plenty of room that finally collects us. We then have to change to go back to our hotel. It takes us a good hours to arrive. Ryo is happy because the outdoor jacuzzi has been filled for other guests so he can use it. Our laundry has been cleaned, which is good because we were starting to be low in clean items.
We decide to stick to our hotel's restaurant for our last dinner in the region, tomorrow we drive to Bucaramanga to take a flight back to Bogota! We enjoyed the Santander region, it has a wonderful climate and beautiful mountains, lovely pueblos and very nice people.