After a copious breakfast were we discover that much like polenta, arepas come in two colours: white or yellow. We are partial to the white ones, they are softer and less dry.
We follow the instructions of the lady who sold us the spelunking experience and get down the bus to San Gil at the big terminal for long distance coaches.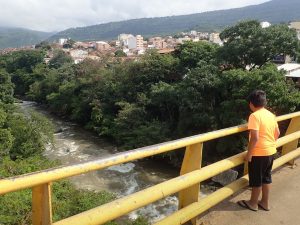 But we should have gone to the terminalito, the small bus terminal for local busses instead. So we walk along the crazy traffic and car repair shops to find our next bus to Paramo, the village were we will visit Cueva del Indio.
The scenery is beautiful and we reach the entrance of the little pueblo, we go off with a young couple who will be our companions in this adventure. Ylbert, our young guide equip us with helmets and life jackets and we cross the pueblo in this funny attire to reach the cave entrance.
Ylbert hitchhikes Skye's tough camera, he is apparently happy that we have waterproof material, and keeps the camera almost all the way and snap lots of shots of our little group.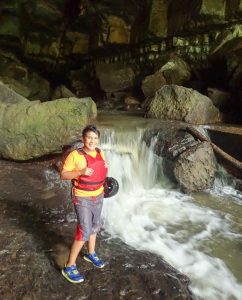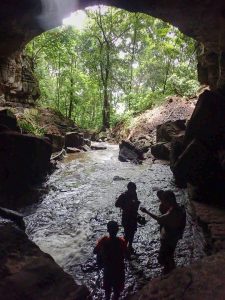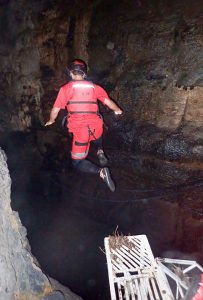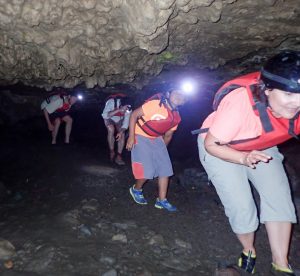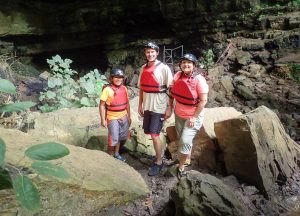 We walk on rocks, waddle in mud and water, avoid bats, slip in their guano (peew, it stinks!!), swim in subterranean rivers, jump in pools. Sandra is happy that the 6 meter jump can be bypassed by taking a ladder, but Ryo is delighted and jumps without hesitation!
After this adventure, we shower and change and set off to find something to eat with Diana and Gabriele, the young couple. They come from Bogota, Diana is Colombian but speaks good french (she studied in Toulouse like Sandra!!) and Michele is Italian. We ask at every little restaurant in the town if they have empenadas, without success and end up eating cheese pastries with ham in a little Panaderia (bakery), followed by scrumptious sweet pastries.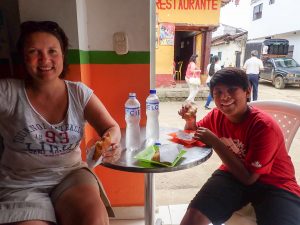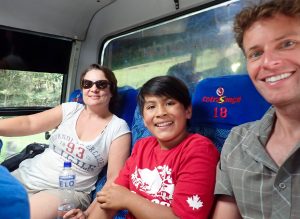 Back on the bus we head back to our hotel to enjoy the pool. When we go to give some laundry to wash, the receptionist kindly offers to show us another room with a jacuzzi bath and a little deck with a hummock if we care to change. The room is indeed more spacious and bright so we take the offer and move out for the next two nights.
Sandra and Ryo decide to make use of the bathroom jacuzzi before dinner. We spend another quiet dinner in our very private terrace restaurant since we are the only customer tonight.