We wake up well rested (despite the solid traffic all night right below our open window), have breakfast and leave the hotel at nine with Mahmoud. Our first stop is Madaba, it is home to a famous Byzantine floor mosaic depicting a map of the Holy Land. Dating from the 6th century it is the oldest map of its kind of the region and of Jerusalem. In the 8th century, the Muslim Umayyad removed some people from the map (as Islam forbids depicting people), and then the map fell into oblivion until it was rediscovered during the building of a new Greek orthodox church in 1884. Historians can date the mosaic quite accurately to between 542 and 570 AD because the map of Jerusalem is so precise that they can actually pick out individual buildings with known dates of construction.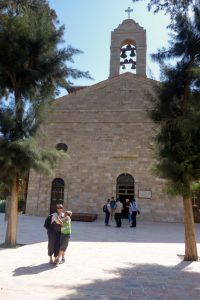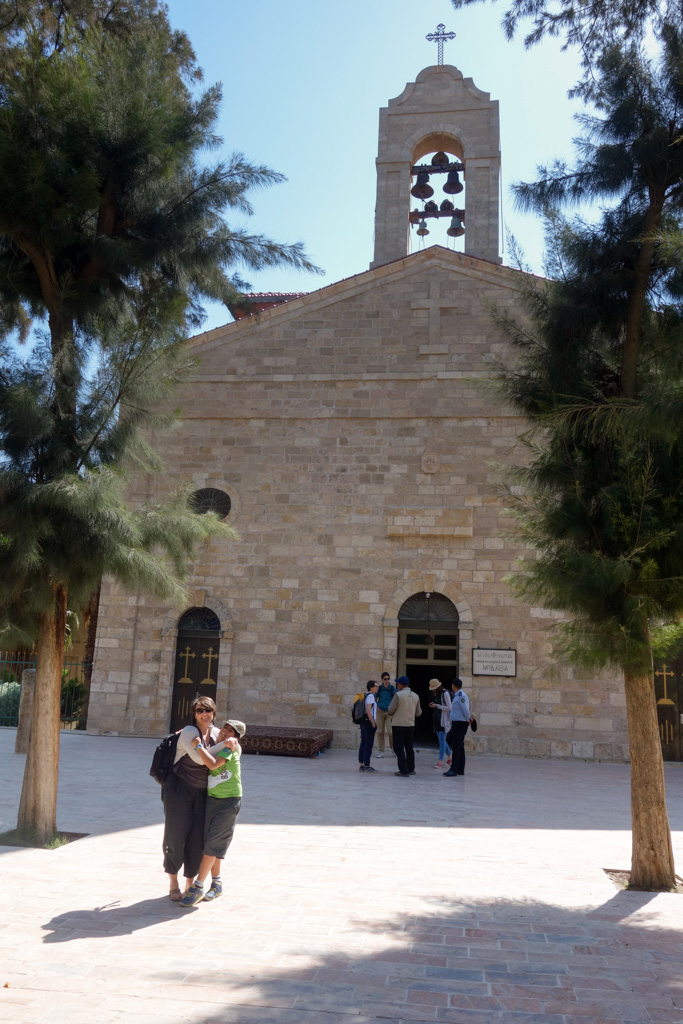 Next stop is the obligatory traditional arts and crafts tourists shop. A Jordanian lady explains how mosaics are made, both the modern way and the old-fashioned way (which gives nicer results) and then leads us to a large showroom. We aren't too keen on mosaics for our house but Ryo spots a Petra necklace he likes, and we find an old brass Turkish coffee pot that Skye negotiates down from 60 dinars to 25 dinars (about $35, still probably 10 times what it is really worth, but whatever).
Madaba is at the edge of a relatively fertile plateau, and as we leave the town the landscape becomes dry and desolate. We drive on to Mount Nebo: at 810m altitude this is where Moses climbed to see the Holy Land before dying. The ruins of a Byzantine church from the 4th century erected as a memorial for Moses were rediscovered on the site. They have been nicely restored, and covered with a modern roofed structure that protects several mosaics and a chapel. Interestingly the mosaics feature zebras, ostriches, lions and buffalos who used to populate the Middle East but which are now totally extirpated from the region. In the chapel at far end of the building a group of Sri Lankan faithful are celebrating mass and singing (we imagine) the praises of Moses with gusto.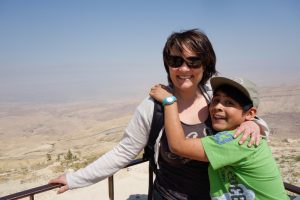 They say on a clear day you can see Jerusalem from Mount Nebo, but it's quite hazy today and we can only just make out the Jordan valley, a string of oases and some dusty greenery in an otherwise very desolate land. The Jordan river empties what little water it has into the Dead Sea, our next stop, so we start descending the ridge on a road of steep switchbacks. There are only a few scattered trees and some nomadic shepherd shacks on the way. We plunge once again below sea level, pass a security checkpoint, and then arrive at the Holiday Inn resort where we will spend the night.
It's only just gone noon and the room isn't ready yet, so after exploring the grounds and not finding anyplace to buy food, we decide to finish off the rest of our flatbread and hummus by the pool. It's nice to simply sit by the pool and read all afternoon, only getting up for a dip from time to time, or to readjust the position of our lounge chair under the palm tree. Ryo dives right into the pool before flopping in his chaise longue blissfully: "ça c'est les vacances!"… poor guy, enjoy this half-day of far niente while you can, because the rest of our holidays will be go go go!
Our room is finally ready; we settle in and decide to test the famous Dead Sea flotation thing. We have to go down quite far to reach the beach: apparently the sea level drops 1 metre per year, and when the resort was built it was 20m above where it is today! Once down on the beach the Dead Sea looks like any other lake, its blue water sparkling in the sun. Given the name we were half-expecting a brown morass with clouds of toxic gas.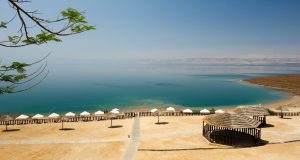 Sandra & Ryo take a few tentative steps into the water; seems perfectly normal but then a wave catches them unawares and splashes them, getting water in their eyes. "It burns!" they howl, and rush out of the water and up the hill to the showers to rinse their eyes. There are stern warnings about not putting your head under water, and even shaving your legs beforehand is a painful experience. Normal sea water is about 3% salt, while here it is 10 times more: 34%! It means that if you take a litre of water, fully one-third of it is actually salt!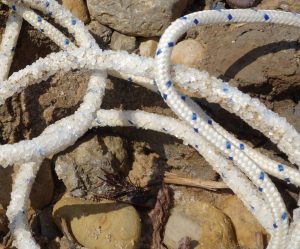 Sandra & Ryo come back down and Skye joins them (entering the sea with his back to the waves). In a normal pool he sinks like a stone, but here he bobs like a cork, thanks to the high density of the water. We try treading water, but it's almost impossible because with the extra flotation your legs keep swinging up to the surface. About the only thing you can do is lie on your back, and indeed you are so far out of the water you can easily read a book without getting it wet. Didn't risk it with a Kindle though!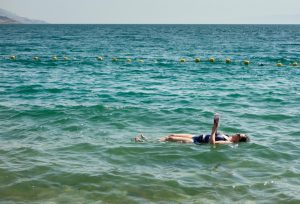 We also go through the ritual of coating ourselves with Dead Sea mud, as it supposed to do wonders for your skin. It is salty too, as Skye discovered because he shaved this morning and now his face is stinging like mad. After a last dip to rinse off the dark goop followed by a good shower, we decide to have an apéro at the swim-up bar. It's an adult-only pool so Ryo has to join us on the land side of the bar for his vanilla shake while Sandra and Skye sip a Mojito with their bums in the water.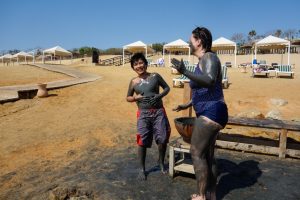 We now need to get ourselves ready for a second sunset apéro at the bar overlooking the sea. Sandra orders a Margarita and the barman looks at her blankly. Skye asks if he knows it and he swiftly assures us that yes of course, no problem. He returns with a salt-rimmed glass (Dead Sea salt maybe?) and there is definitely lemon and tequila in there, but a Margarita without Triple Sec is really sour!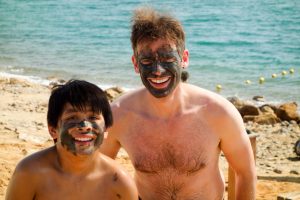 Dinner is a buffet in a noisy dining room, but we're not keen on the canteen atmosphere, and manage to get a table outside on the patio. We order a bottle of Jordanian Merlot, a bit simple and over-oaked, but it works well with the fiery olives and lamb kebab. We indulge in people watching and are intrigued by a couple sitting at the next table with two young kids and a teen. The guy is British and his blonde wife looks half-Asian, but she is speaking French with the teen who we imagine to be the fille au pair there to look after the kids. Pretty sure Ryo's maman de jour (nanny) wouldn't have said no to a free holiday here either!