We haul ourselves out of bed and for breakfast make our way to the terrace. After several days of olives and feta for breakfast it's nice to find waffles, pancakes and omelettes again. Mahmoud picks us up at 9 and we head south along the east coast of the Dead Sea. In places there are huge salt deposits on the shoreline, some looking like giant cauliflowers.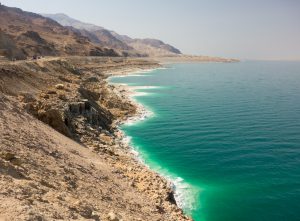 Then we leave the sea and climb the Jebel (mountain) up to the King's Road on our way to Kerak where the Templars built a castle for the Crusades in 1140. It is perched on top of a hill, but alas there is another hill right next to it higher still, and in 1189 the Muslims led by Saladin brought up a bunch of catapults and bombarded the castle into submission.  There is not much left of the towers and keep, but the fun part lies below ground, with its maze of tunnels and galleries. We explore the underground passages and amuse ourselves by hiding and jumping out at each other. It's a nice visit because there aren't too many tourists around.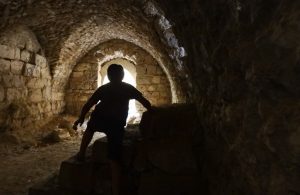 We wrap up our visit around noon, and Mahmoud brings us to a large restaurant designed to cater for large groups of tourists… and we're the only ones there. The buffet is copious with tasty mezzes, fish, rice, and very good Arab pastries. Another couple of tourists come in, and although it's pleasant to be almost alone, it's a pity for the locals.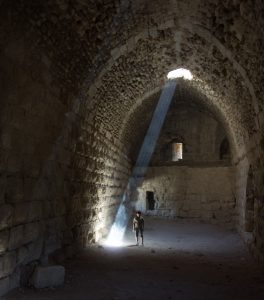 We now push on to Petra, a drive of almost three hours across the mountains. It's a prettier road than the monotonous desert highway, but Mahmoud is stressing Sandra out with his "sporty" driving style, while carrying on an intense phone conversation without a handsfree. We cross several villages, contemplate the panorama over the Dana reserve (known for its trekking and wildlife), then finally reach the Little Petra site. Archaeologists think this lesser site was a caravan stop on the frankincense and silk road, a day's ride from the main Petra site. There are few tourists and it's a good warmup for the full Petra experience tomorrow.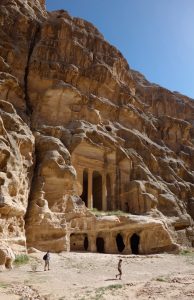 The rock formations in the narrow gorge are really spectacular on their own, but add the Nabataean carved stairs, cisterns, tombs and caverns and it is really something. The caves are mostly coated in soot from the campfires of generations of Bedouins who used to live in the caves after the disappearance of the Nabateans. As a protected site no one is allowed to live here anymore, and some caves have been cleaned up: in one the cleaning revealed magnificent ceiling paintings in a Greek style, one of the finest examples of Hellenistic painting anywhere.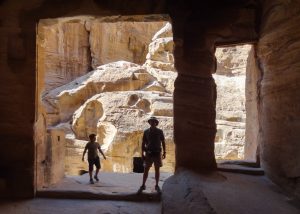 The gorge narrows further and we climb a stair carved out of the rock, crest a sort of pass, then climb back down the other side to a beautiful winding river bed. Our GPS says we can follow the wadi back to the car, but after a while we come to a steep drop in a crevasse and are stuck. We watch a guide go by with another tourist and see them climb above the dry waterfall and edge along a steep rock face above the sheer drop, probably 20m or so down into the crevasse. We climb up and study the situation for while but have a vision of Ryo sliding down into oblivion and decide to retrace our steps. We have spent two full hours in little Petra alone and really enjoyed it, so we are looking forward to the big site tomorrow.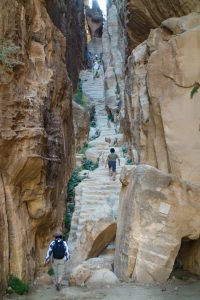 Soon we reach our hotel in Wadi Musa and have a nice room with a view for the next two nights. We take a break and a shower before going up for sunset mocktails (the hotel is dry, as is most of the town) on the rooftop terrace. The view over the mountains is gorgeous and bundled up against a stiff chill breeze (we are at 1200m) we enjoy our mezzes and tasty buffet dinner with a large choice of salads and other hot dishes, including lamb kebab on the grill. They light the candles on our table (in paper bags filled with sand!) and we sip coffee with middle eastern cookies as the sky turns pink and the sun sets over Petra… which we will discover tomorrow!