After a noisy night interrupted by groups of imbibed youngsters down in the street singing and talking loudly in the early hours, we head down for breakfast. The lady who hosts us has prepared a table laden with delicious skyr, spreads and jams, cereals, fruits, vegetables, cheese, ham, eggs… we enjoy a solid meal and now that a parking spot has opened up the boys bring back the car into the small Brattagata lane to load up our gear.
It's then off to the travel agency to pick up our picnic equipment. The Ferdakompniid Icelandic Travel Company has a big warehouse with all the gear and food necessary for serious camping in the highlands. Everything has been prepared for us: we have a thermos, stoves, cooking utensils and material to do the washing up, and a cooler with ice packs (for the beer!). We are all set and now our immense trunk is both full and somewhat organized as we also borrowed a couple of bins to store our food and drink instead of shopping bags.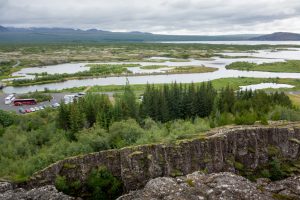 We leave an overcast Reykjavik towards the touristy golden circle route. The changing landscape is very pretty, sheep graze in tall green grass dotted with lovely flowers, Nordic coloured houses are scattered here and there, and we pass brown and grey mountains and pretty rivers and meandering streams. We reach Thingvellir Park and its big shimmering lake just as the sun starts to poke through the cloud. We park at the visitor centre and after a pee break (first toilet we've seen that takes credit cards!), we join the crowds to explore the rift between the American and Eurasian tectonic plates. The lookout views are beautiful but we are really not alone. The place is crawling with tourists, including a lot of Chinese groups, and we reflect that for them it must seem quite empty in comparison to the Chinese National Parks that we visited last year! We decide to move on as we are eager to reach the much emptier highlands, just making another short stop at the bottom of the rift. Scuba divers are preparing to explore the waters in the crack between the two continents, and we do a bit of birdwatching along the river and ponds in the area. It's very pretty and we see large flocks of Greylag geese and their babies, and admire the mesmerizing stationary flight of the terns before they plunge into the river to catch small fish. Skye is excited to discover a red-throated loon and other smaller water birds and Fay and Ryo enjoy observing the various ducklings.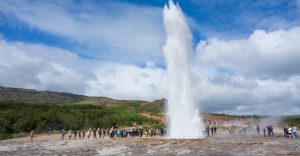 We carry on to Geysir where fumaroles and a geyser shoot boiling water above ground. The spectacular geyser named Strokkur blows about every 3 minutes and is really fun to watch. It's already past lunch time, but Karin managed to keep the children in check with a bit of chocolate, so they are all absorbed in counting the time between eruptions when Karin receives a phone call that her Dad is not well. While she discusses things with her family we pursue our route to Gullfoss where we admire the beautiful waterfall and then have to part ways. The Jones family will sadly not continue the trip as they have to urgently return to Switzerland and then fly on to Amsterdam to be with Karin's family. It is a very emotional moment when they board a bus heading back to Reykjavik. The trip will not be the same without them, and we are very sad and sorry for their family.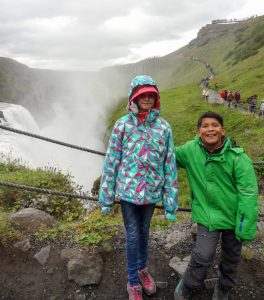 With heavy heart we take to the road to continue on up into the highlands. As we drive along the F35 moving from asphalt to a dirt track, the magnificent landscape slowly eases our sadness but it's bittersweet as we know how the Jones would have loved it too.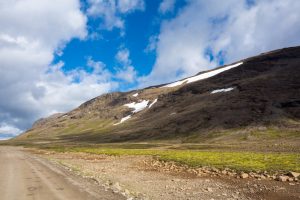 It is hard to describe so much beauty and we are treated to blue sky with puffy clouds that create patches of beautiful light that illuminate the streams, lakes, barren volcanic landscape and wonderful glaciers. After a two hours' drive including a lot of stops to capture the beauty of this surreal landscape on camera, we reach a lovely verdant fold at the foot of the Kerlingarfjöll mountain range dotted with tents and little triangular cabins. We check in into one of these little houses: it is really well equipped, and without the Jones it will just be the three of us in a hut that sleeps 11! There is a kitchenette with a fridge and icebox which will let us freeze our ice blocks again for the cooler on the next day. We can't bring the car right to the cottage as we have to cross a footbridge over a little stream to reach it. So we just grab the cooler and some crisps for a quick apéro to regain some strength and relax a bit.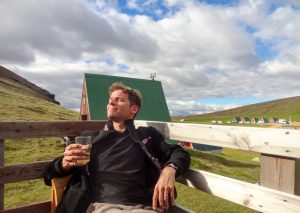 On our way to the house we pass a French couple and the man kindly tells us that we should really not miss going up the Kerlingarfjöll, the colours are fantastic. We saw on a map at the reception that there is a nice trek from the camp to the mountain range, and as it quite late we were not thinking of going, but the French guy explains that we can drive up there by car. So after a comforting apéro we follow his advice and take the short drive up. First Sandra casually notices a fumarole on the slopes in the distance, and before we know it the entire mountain is steaming before our bewildered eyes! We hop out and start following paths that take us through this magnificent volcanic area streaked with yellow sulfur, red oxidized iron and green copper. We descend into a river valley, cross bridges, climb stairs, walk on clay ridges and are completely amazed by the beauty and intoxicated by the sulfur fumes. WOW.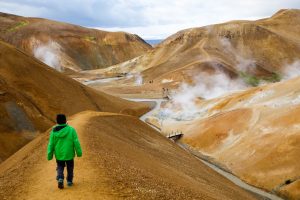 Humbled by this fantastic discovery, we head back full of energy and motivated to sort through all the crap in the back of our van. We take out the necessities for the night and leave the rest neatly organized in the car. We've got a lot of room in there now, and also a lot of supplies for just the three of us.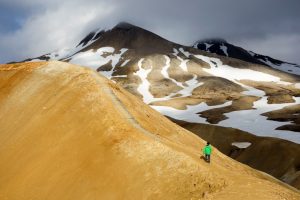 We unpack our sleeping bags, plug in all of our devices, charge our empty camera batteries, put some music on Skye's laptop and pour ourselves another beer. We touch base with the Jones by SMS who have arrived safely in Reykjavik and have a flight tomorrow morning at 6 o'clock. They are heading out for fish and chips and make us promise to enjoy our trip and blog; Fay and Ryo also exchange a nice note. This is so unfair…we miss you guys! So we have a promise to keep, and it is time for a bit of blogging for Sandra, photo sorting and bird tallying for Skye, and playing Minecraft for Ryo. Around 9, Sandra prepares a nice "scramblette" (that's an omelette that sticks to the pan) with tomatoes, ham and cheese as well as a salad made with a sauce made from some tuna fish spread thinned with a bit of milk, as we do not have the staples for a vinaigrette. It's a nice hot meal washed down with a glass of white wine and wrapped up with yummy vanilla skyr topped with crushed chocolate M&Ms.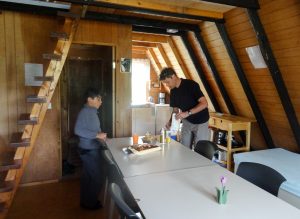 Time to curl up in bed, and since the curtains barely cover half of the windows, we are super happy to have brought eye patches, as it's past midnight now and still quite light outside!