A new adventure starts today, but our departure is planned for 2pm so we are not in a hurry to get out of the house. We head to the Jones passing not far from Caroline's family who is en route from Cambridge to San Giovanni via Dijon. The Jones are also ready to go and we decide to take one car. With great difficulty we manage to stuff in all our bags as well as ourselves and head to the airport. We have a smooth check-in because we pre-booked our seats, which apparently entitles us to a special line for the baggage drop-off. So when the guys come back after parking the car at Chris' work, we are ready to go through security. Surprisingly, considering the crowd at check-in, there is almost no line and we are through with plenty of time for a nice lunch and some shopping for booze and M&M's at the duty free. Boarding goes well too, and we take-off almost on time.
We fly over Dijon and Curtil where Stephanie lives, and then over Cambridge where Caroline lives. After about four hours we start our descent to Iceland, of which we see absolutely nothing because the country is under a thick layer of clouds. Once under it, we see the coast line and Keflavik; the landscape seems very lunar, if the moon had an ocean of course! We have to wait quite a while at the baggage carrousel, and the boys take the opportunity to complete our stock of beer and wine at the duty free (as suggested by the trip organizer who took pains to warn us of the cost of drinks in Iceland!). The airport is packed. Small wonder considering that Iceland hosts most of its million annual visitors in just the two summer months.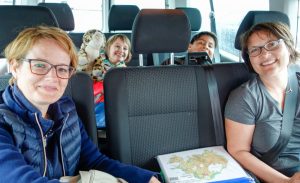 We head to the car rental counter to pick up our car, roadbook, and voucher package. We are given a huge VW 4WD Caravelle, and this time we don't have to play Tetris to fit in our bags: there is plenty of room. Before heading into Reykjavik we make a detour to the famous Blue Lagoon, a hot-springs pool created on the site of a geothermal power plant. The hot milk-coloured water infused with silica that is rejected from the plant is pumped into basins dug in the black volcanic rocks, letting people bathe blissfully in this surreal landscape.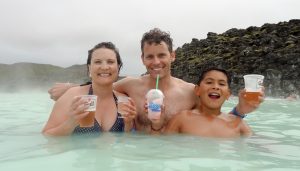 We have booked tickets online for 18h but on the way Karin realizes the next day is Sunday so we are not sure to find shops open early next morning and we absolutely need to bring our own food into the highlands the next day. Skye uses his Open Street Map app to find a supermarket in the next town after the Blue Lagoon, and we do some rushed grocery shopping in a small supermarket. We buy mostly breakfast stuff, sandwich fixings, fruits and the local yogurt, skyr. We also pick some excellent cookies to keep us going until our dinner which won't be until very late, especially considering our internal clocks which are two hours ahead of Iceland time.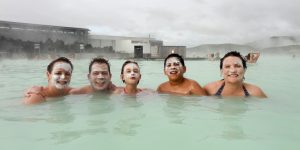 The Blue Lagoon facilities are very modern and nice; the boys go into the men's area as there isn't the Swiss system with individual changing cabins separating the shoes from the barefoot zone. After a bit of stress because Ryo couldn't find his swimsuit, we finally all enter the warm, white and slightly salty water and head straight to a super cool swim-up bar. We order prosecco for the girls, beer for the boys and blueberry slushies for the kids: we can charge everything to our locker bracelets, love the RFID technology! We swim around with our drinks and Sandra, who wants to immortalize this lovely moment, leaves the pool to fetch her camera from the changing room, and wisely protects it in a Ziplock bag… that is full of holes. No harm done in the end, we manage to take our pics and hide the camera in the lava rocks at the edge and continue our exploration of the pools. We slather our faces with silica mud masks which make us look ridiculous but leave our skin soft as a baby's bum. After about an hour we feel very relaxed and hot so it's time to get out. We go out through their snazzy boutique where they sell silica-based beauty products, dead arctic fox furs and a line of very nice winter clothing "66° North" with its amusing tagline: "just north of summer".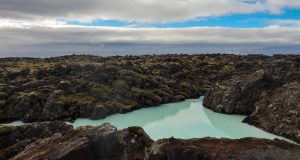 Outside we go for a walk along paths that follow milky channels cut through the rugged lava field which is partly covered with a thick layer of moss (which we read is highly flammable) and clumps of very pretty flowers. After a 40-minute drive we reach Reykjavik: the city is not very big, and soon we see the distinctive spire of the very modern church. We finally reach the old centre with colourful old houses and groups of youngsters all tarted up for Saturday night pub crawling. After driving in circles for a while we decide to park the car wherever we can find a spot and hunt for our guesthouse on foot. We end up finding it, do a quick check-in and head straight to a restaurant recommended in our roadbook. The Sea Baron is in a quirky old house down by the port, serving a fantastic lobster soup, fresh bread and skewers of a wide variety of ultra-fresh fish and seafood. The food is delicious though the skewers take forever and the kids are at the end of their wits as it is after midnight back home. We head back to the guest house, swinging by the car to grab our jammies and a change of clothes before heading to bed after 11pm… in broad daylight. Mid-July nights in Iceland are very short indeed!