After an early breakfast we head to the already packed souq. Skye parks the car in the only place he finds, up on a sidewalk in a pile of thorn branches, and we walk over to the livestock market. It's very lively, lots of men and boys, a few bedouin women, and of course animals everywhere. People are haggling over goats, then walking off with a baby goat tucked under under their arm, or pulling an obstinate billy goat on a rope.
There is a large rotunda with dignified buyers in dishdashas sitting in the middle, while herders parade their goats around them, alternately dragging or carrying them. Around this scene is a second larger ring of people, ourselves included, watching the goings-on and and joining in on the bidding. Everybody is shouting in Arabic, money changes hands, and goats are led placidly to their doom. Shortly after 8 o'clock the goats make way for the cows, and after watching a few skittish cows land well-placed kicks, we duck out of the ring to explore the rest of the souq.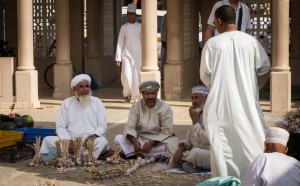 As there are strict carry-on restrictions concerning goats (well, presumably), we seek more easily transported goods and push further into the souq, reaching the spices, frankincense and pottery area. Of course we buy some frankincense but Skye always wanted to know what myrrh (of 3 wise men fame) is. Skye still doesn't know what it is, but now we have some so if ever you want to smell it, you're welcome to drop by our house. The air is full of the odours of rosewater and sandalwood, saffron and Omani spice mix.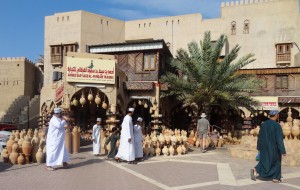 Skye barters with the shop guy on principle and manages to knock the total price down a couple of bucks after a few minutes of inexpert negotiation. To Ryo's despair he continues roving the souq looking for one of the egg-shaped terracotta pots that are hung in breezy courtyards: the porous material allows water to seep through and evaporate, keeping the water at a nice cool temperature. He finds a smallish one which will certainly be a pain to bring back home, but as he is already bringing back an opened jar of chilli pickle he might as well throw a fragile amphora in the mix.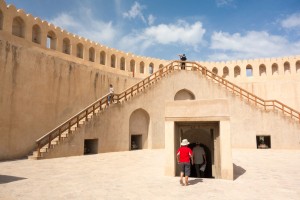 We then visit Nizwa Fort, whose main building is a big drum tower 30m high and 36m in diameter, the largest in Oman. We explore the interesting museum in the Armory, then head back to the car. It's very hot, and now we're off to the Wadi Nakhr for a hike in the (we hope) cool shade of the wadi.
We drive north from Nizwa towards Al Hamra (where we were yesterday) and continue on to Wadi Guhl. We engage our 4WD and descend to a dirt track on the riverbed where other 4x4s are also heading. The track climbs up again and we soon reach a small village perched mid-cliff on one side of the wadi entrance. We rumble slowly down the track then hit a snag just as we're about to go back down to the wadi: the slope down is just a mass of boulders. Even to Skye's inexpert eye it looks a bit dodgy, so he gets out of the car and a bunch of local Indian chaps following us come to study the situation.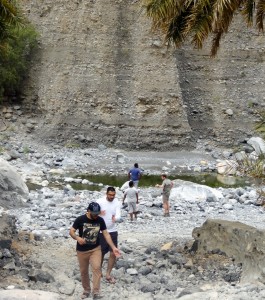 After a lengthy exploration and discussion everyone concludes that it's not passable. The Indians unload their cooking pots, mats and coolers for their picnic while a French-speaking guide (with his pair of tourists) who just showed up confirms our analysis ("you'd never get back up there!") and shouts directions to Skye for what is probably the trickiest three-point turn he has ever had to do. Interestingly, on YouTube there are videos of people driving up the wadi on a smooth gravel track, completely different from the boulder-strewn landscape today!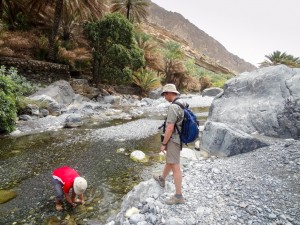 We drive back a bit to find a place to leave the car, grab our picnic stuff, and start walking up the wadi. We meet up with our Indian guys who have started a fire for their lunch. Then a couple of drops fall, and thunder rumbles ominously in the distance. We spy a woman coming back out of the wadi: she urges us to get out of there while we can, because in case of storms wadis can flash-flood and every year several people drown in a similar situation. Often Indian picnickers apparently; this is not a good sign. We continue on heedless and aren't too nervous as there a still lot of locals around: women and boys looking for a picnic spot, three chubby Indians in underwear splashing about in a pool, and a group of men walking upstream with rifles that they fire off every now and again with a deafening 'crack', just for fun. Then it really starts to rain. Can we panic now? We do a 180 and hightail it out of there, soaked to the skin.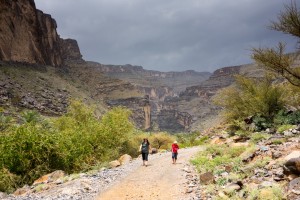 Finally back to the car, all wet and shoes covered in mud, we drive out and head back towards Nizwa on the scenic back route. In Al Hamra there are cars and people everywhere, and we soon realize that we hit town right after prayer time and the mosques are releasing a wadi-like torrent of dishdasha-clad devotees.
We still have a lunch to eat, however, and keep our eye out for a likely spot. A bit further on we find a pleasant water pool that seems to be popular with the locals who have flocked here en masse for their Friday picnic (recalling that Friday is the weekend here). We decide to make a stop here, cross a small stream to get away from the crowds, and sit on rocks under a tree for some pita with hummus and babaganouj. It's sprinkling a bit but nobody else seems fazed by the rain so we tuck into our lunch. We are just in the process of finishing our last pita when the rain drops swell in size and Sandra declares "abort picnic!" And a wise decision it was to head back to the car, pita in hand, because the skies suddenly open and the drizzle turns into a downpour.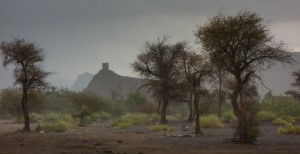 It starts off very pretty and atmospheric: the rain hits the hot ground in sheets and evaporates in a mist. But the storm soon becomes a deluge and we can hardly see anything through the windshield. It starts hailing too! And as Ryo puts it, had we stayed in the wadi Nakhr we would be "dead meat!" Indeed, on the hillsides around us we see mini torrents rushing down every little crevice… we can only imagine the flash flood in the wadi right now.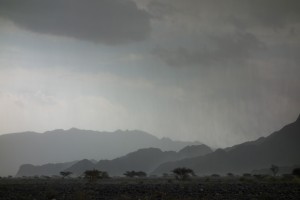 We arrive in Nizwa and stare at the big "parking lot" for the morning souq: it had been a dry wadi where carpet-sellers and clothing stalls stood earlier in the day, and it is now in full flow! We reach the flooded parking lot of our hotel, and find ourselves locked outside as the automatic door has shorted out in the rain. Hotel staff unlock another door for us and we skirt a pool of water that has seeped into the lobby. We return to our room, and Skye, very proud to have kept his shoes and socks dry all day by jumping from rock to rock in the wadi, promptly steps with stockinged feet into a huge puddle of water that has leaked under the door to our balcony.
The pool is off for Ryo right now, so we grab our computers and sit in the lobby. Ryo watches a movie on his tablet while Skye and Sandra catch up on our blog and photos. The road behind our hotel crosses the wadi, but there is too much water to pass under the bridge and it spills over the road. Cars have to ford the rushing water now; clearly we will have dinner at the hotel again tonight!
Tomorrow: back to Switzerland!