We have a full day at Villa de Leyva and the plan is to rent a bike to go in the desert. We try to arrange this over breakfast but the bike shop is missing one bicycle and can't accommodate us for the moment.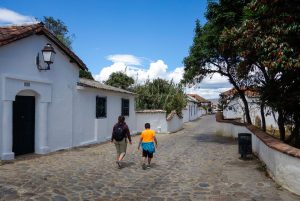 So we decide to walk to the Paleontological Museum for our morning visit. It's a small museum set a few blocks out of the old town. It's drizzling but not cold as we wander in town.
For lunch we take the dish of the day at la cocina de la gata.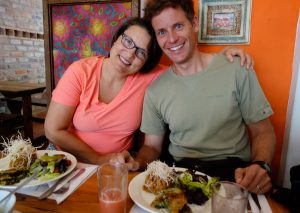 When we return to the bike shop in the afternoon. We are lucky, some of the bikes were returned, but not enough for the French family of 6 who just turned up at the rental place before us. We set off for a 18 km ride in the desert, mainly on dirt tracks.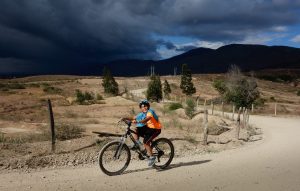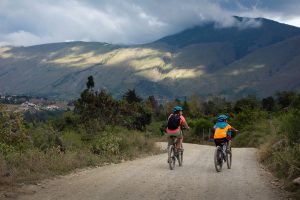 It's a pleasant ride, we pass by the Pozo Azules, manmade water reservoirs which take nice colors and are pretty in the otherwise dry land. We cycle amongst fincas (farms) and many of them are for sale. There are a lot of attractions on the way, such as an ostrich farm, an orchid museum etc… but we are already late so we decided that we would do only one stop at casa terracotta, a Gaudi like house created by a local artist. It's a lot of fun to visit. Everything inside is really operational, kitchen, bathroom, fireplace. There are multiple terraces complete with barbecue and various fire pits.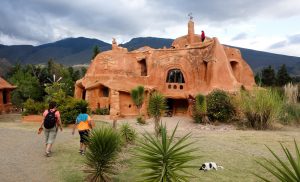 On the way back to the hotel we buy drinks, and Ryo has a great time playing with the dog of the house, Mia, while we have our apero on our private terrasse. We then shower and go to Salvia, the restaurant that Jesus recommended to us when we drove into town. We have a fun time as the table are covered with a large blank paper tablecloth and Sandra gets out a pen so we can play hangman, draw and write stories. The food is good and we splurge with a bottle of white wine.