Again we are up before the sun. Sandra has asked Ryo last night to write a diary, and reads his account of yesterday. It's touching and funny!
At 9 o'clock, Jesus is here to pick us up and drive us to the colonial city of Villa de Leyva, about three and a half hours north of Bogota.
The Andes scenery is fascinating. We first have to get out of Bogota. Skirting the huge city along the cloud forest, we go by popular barrios, posh gated communities, plush condos, the trendy Usaquen District and finally leave the big city on a small pot holed road, that Jesus chose to avoid the traffic, before rejoining the highway.
The weather is cloudy and blustery with a few timid sunrays piercing here and there. This makes for a moody backdrop. We pass a few industrial zones but very soon it's mostly only farms scattered on the slopes. Near Bogota it's a cattle and horse ranches agriculture and as we go further, the grass prairies and cloud forest make way to cultivated fields. Jesus informs us that crops are mainly potatoes, but we also go through a strawberry region and a valley were they cultivate onions and corns.
A windy road takes us across several passes that lead us to a completely different ecosystem, a semi-arid pampa now covers the mountains as we reach the beautiful old town of Villa de Leyva. Lovely whitewashed colonial houses covered in spilling bougainvillea fringe roads made of big rough cobble stones. It's very pretty albite teeth rattling when you are in a car and definitely not the town you would want to wander about in you Jimmy Choo heels!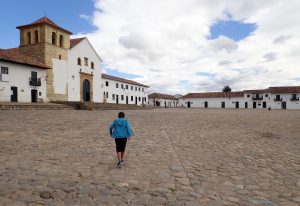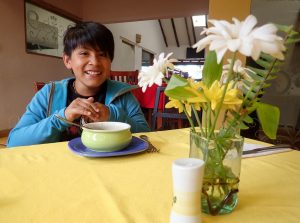 We are welcomed with coffee and tea at the lovely hotel Casa Terra. The well-travelled owners have tastefully renovated and decorated the place. The lady gives us some tips for lunch and we set out to explore the town while our room is being prepared.
The central square, Plaza Mayor, is the biggest in South America, it's very photogenic with the school children coming back home in their uniforms.
We have lunch in a colorful restaurant were the cooks are students, there is still room for improvement, but it's fun.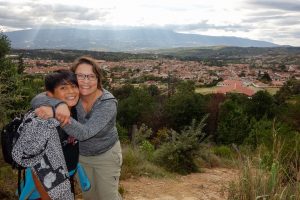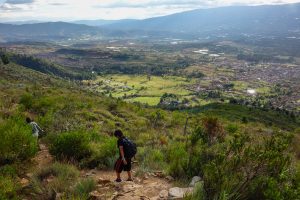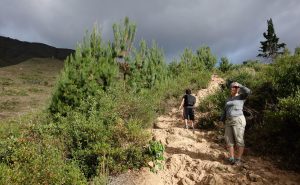 At the tourist Office, Skye asks about a hike. There is a one hour climb to a Christ statue that seems promising. We pass a football field were guys are just finishing a match and enter a eucalyptus forest still bearing traces of a bush fire. Further up it's balder with low thickets and agave plants. The view is beautiful and we really enjoy the climb and even catch a glimpse of a humming bird.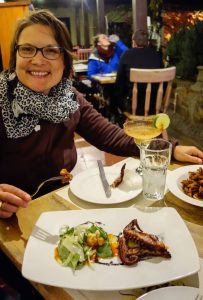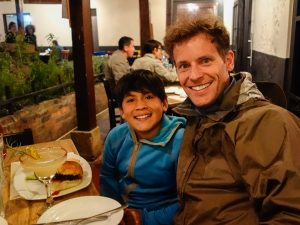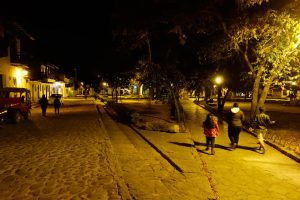 After a store-bought apero, we head for dinner to Mercado Municipal, a large restaurant, bar, bakery. Ryo orders the burger and Skye and Sandra, opt for three seafood starters to share, washed down with tasty Margaritas, one flavored with rosemary and the other chili. We don't last long before falling asleep!