We wake up invigorated after a good night's sleep to a perfect sunny day! This really motivates us to head into the remote Lakagigar region. We check the road conditions online and everything appears to be passable, so we're on.
After packing our bags, we head to the Laki hotel down the road where we have a solid breakfast including waffles. There's also porridge for Ryo, his new favourite food. We continue on down to Kirkjubæjarklaustur to fill up the car and buy food to replace what we ate last night. As we pull into the service station we spot two hitchhikers: a young French couple who want to go to Lakagigar for the day. They are in luck, and get to spend the day with us since we are doing the in-and-out and will be able to bring them back to the ring road in the evening.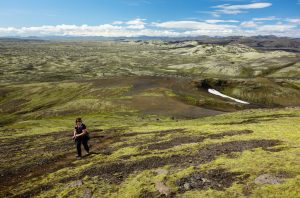 We hit the tracks at 10:00 and it's a long drive on a rough trail, but through a very pretty landscape. It starts with green pastures that slowly transform into mossy lava fields. The panorama becomes more and more dramatic as we approach the mountain range that was thrown up by a giant chain of eruptions only a couple of centuries ago. The 1783-1784 Laki eruption was so devastating that not only did it kill 20% of the Icelandic population, but even 20'000 people died in Great-Britain from the poisonous gasses. The ash cloud blotted out the sun and ruined crops, plunging all of Europe into a famine for 3 or 4 years, and is credited for triggering the French revolution!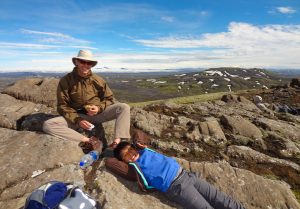 We could see the gigantic lava field down from the sea, and when we arrive at the foot of the Laki Mountain it's incredible to imagine that these volcanos could spill as far as the ocean. We start a very nice walk to go on top of the Laki, and Ryo races up the slope as if his life depends on it. Once up top we are rewarded with an absolutely fantastic 360° view: the Laki dominates a string of craters that form a straight line leading to the Vatnajökul glacier. Even the ocean is visible on the horizon, quite a rare occasion here in the misty and rainy southeast!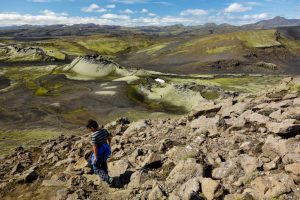 We continue the hiking loop back down to the car along a steeper path. Poor Ryo unfortunately gets terrible blisters with all his eager pranking on rocks but bravely says nothing until we get back to the car and examine the raw flesh. In the meantime there is excitement in the carpark because a convoy of old cars is heading out. It is a rally of French 2CV (deux chevaux) cars from the 50s, and those guys have got guts because getting through fords and up rocky hills with a little 30hp 2CV is a feat in itself, and the ride must be very uncomfortable.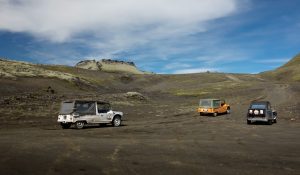 Our next stop is a quirky crater where a little lake formed. It's a short walk so we let Ryo guard the car. We then catch up to the oldtimers crossing a ford, before arriving at a dramatic waterfall, and note with interest that the ford is only a couple of a hundred meters upstream. Funny to think that we crossed this river on the way in, blissfully ignorant of the raging falls just a short ways away: you don't want to get washed downstream! Again we meet up with the 2CVs crossing the ford, and one of them gets bogged down just short of the bank and has to be hauled out by one of their accompanying Land Rovers.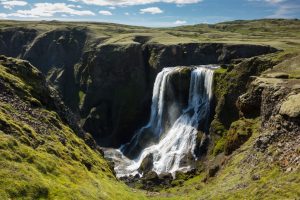 Soon we are back on the ring road and drop off our passengers, ready to carry on westwards towards Landmannalaugar. Sandra takes the wheel to give Skye a rest. After a short period on paved roads, she reaches the dirt track and decides to give it a go. It's not the smoothest ride, but we make it all the way to our hut. It's set in a large glacial riverbed, and we are in a big dormitory this time. The weather is still magnificent, we got up to 21.5° today! We sit at a picnic table outside and sip our beer, basking in the sun. Ryo who is still nursing his blister is exempted from the exploratory walk around our camp. We follow a lovely track along a little stream and are surprised to discover an impressive waterfall. As an added bonus to the already gorgeous view, a beautiful rainbow has formed in the falls' mist. We are really going to die of beauty overdose today!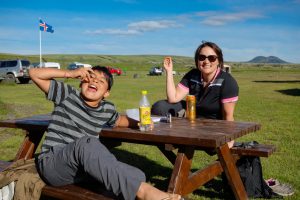 Back at the hut, we reheat our leftover pasta from the day before. A guy of indefinite origin comes in to use the hot water to wash his dishes with hot water and chit-chats with us for a while. He is master of "off the beaten tracks" and appears addicted to Iceland. He says that 17 years ago there were no tourists on the Landmannalaugar, and now he has to ask the rangers where to go to find more remote tracks. Basically he goes everywhere that is marked as strictly off limits for us in our roadbook. We eat our dinner in peace, and just as we finish, the hut is invaded by a large family of some Nordic nationality. We clear up as quickly as possible as they launch their dinner and manage to set the smoke alarm of with their cooking. We realize we had it very cool with the huts before… no such luck this time. Can't win them all!