We wake up and are the first at breakfast because we must be at the kayak base camp for 8:45. They have a full cooked breakfast as well as pancakes, so we have another hearty breakfast and are ready to fight the cold, gray and rainy morning.
We arrive on time and Arne, our guide, gives us drysuits, rubber boots and gloves, and dry bags to pack our cameras in. It's just us and a French couple for the kayak excursion. Arne drives us to the foot of the Heinabergsjökull, one of the many tongues of the Vatnajökull glacier that pokes towards the sea. The glacial meltwaters have created a deep lake (140 m) that is still growing and is full of ice floes.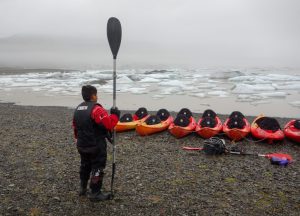 The weather is terrible, but it's still beautiful to be here, and we soon embark on the kayaks and push our way through the ice. Ryo shares a double kayak with Sandra while Skye takes a single one like our guide. Sandra and Ryo are a bit inefficient at first, but soon they manage to steer the boat. The oldest pieces of ice are covered in ash, but Arne explains that a week ago the glacier calved and new floes formed, these ones very clean with pretty white and blue colours. This calving event was the first in two years and moved everything around, so for Arne it's like being on a new lake with uncharted territory every time something like this happens. We are just hoping that another calving doesn't take place just now as we feel very exposed in our little kayaks at the foot of the big wall of ice.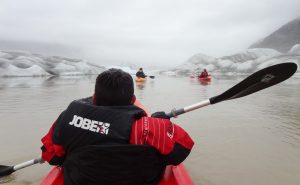 We alternate between open lake and channels between floes where Arne has to push the ice with his feet to create channels for us to go through. Skye stops to take a photo and just after following Arne around a big floe, followed closely by Sandra and Ryo, we hear a big splash and there is no more Skye on the kayak! He was speeding after Arne and one side of his kayak rode up on an underwater ice shelf which rolled the kayak over in a flash. We all hold the boat while he jumps back in. Luckily he put his camera back into his dry bag and closed it carefully! The drysuit works wonders, and although Skye is cold because he has water in his boots and gloves and now has wet hair, all the rest is dry, so we can carry on our cruising of the lake. We then land on a gently sloping ice flow and Arne gives us spikes for our shoes and we climb the ice for a view of our surroundings. It's fun to be a bit higher up than on the kayaks. After that we paddle back through another route, passing by ice caves and tunnels where we see how blue the ice is.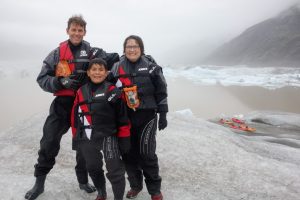 We arrive back at the van with cold heads, hands and feet, but very happy about this wonderful experience. At base camp we remove our suits and it's amazing to be so dry, particularly for Skye. Back in the car we dash off immediately because we are already late for our next activity. So Sandra has to prepare some food on the fly, and manages to work her magic with a can of sardines in tomato sauce, some Mexican tortillas, and polish pickles to prepare some strange wraps that are very tasty nonetheless. We polish off a packet of chocolate chip cookies for dessert while driving by the famous Jökulsarlon, a much busier lagoon full of pretty ice floes. We are glad we did our kayaking in an empty lagoon. This one is very scenic but really packed with people and boats… it doesn't have the same magic feeling.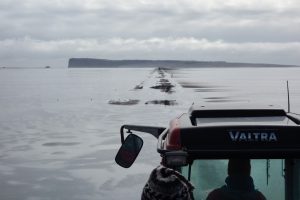 We arrive at the edge of the Skeidararsandur: a gigantic glacial estuary, a flat pan completely eroded and very desolated. We are signed up for a puffin expedition and manage to reach the group of tourists at 13:30 on the nose, just in time to jump in the departing trailer pulled by a tractor across the tidal flats. It's a fun ride on the partially-flooded black sand flats, bumping around in the tractor and taking in the surreal view: mountains and glaciers, green pastures, black sand flats, and at the point: the Ingolfshöfdi cape.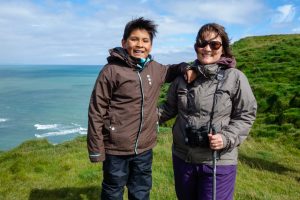 In stark contrast with the fog of this morning, everything is in beautiful sunshine, under a radiant blue sky. We reach the cape, hop off the trailer and start climbing up the rock. We see nesting Great Skuas and get very up close and personal with the lovely puffins! Our guide also shows us some edible black berries and we also taste some islandic thyme which grows wild as ground cover. We also observe some seals swimming down in the bay and watch a pair of Skuas devour a poor puffin.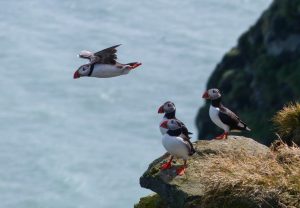 After this nice outing, we continue heading west and stop at the Svartifoss in Skaftafell national park. It is only a short 2km walk to the waterfall, but as we discover the pretty path through thickets and fields of flowers is not flat at all: it climbs 150m and we are terribly hot in our waterproof kayak gear, wearing ski socks and long johns. So we don't linger, and as soon as the waterfall is in sight, we turn right around and go back on our tracks instead of doing a bigger loop. This is just as well: it's been a long day, we're starting to feel tired and we still have quite a ways to go until our guesthouse. We cross several rivers see the vestiges of a bridge that was washed away by a flash flood. The flats are huge but can fill up pretty quickly. Earlier, our bird guide, a local girl, told us about her grandmother riding her horse across the sands to warn the men on the cape of an impending flash flood, and on her way back the river had risen so high that her horse had to swim back.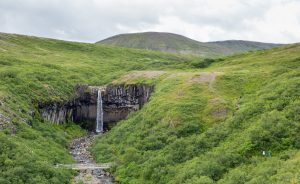 After the flats we reach some lava fields all covered in moss, very similar to those of the Reykjane peninsula around the blue lagoon. We reach Kirkjubæjarklaustur, in a very large lava field that is old and eroded, offering lush pastures for sheep. Our guesthouse is further south on a track. The owners are farmers who have 1000 hectares of land and 600 heads of sheep. They have built a lovely big wooden house for guests, nestled next to a little meandering stream and with lovely views from the big kitchen and lounge. We don't have the energy to drive into town for supper, so we decide to cook what we've got for dinner as the place is nice and we can buy more food in town tomorrow morning.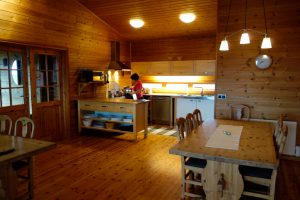 After eating our pasta, meat balls, asparagus and warm apple compote, we go straight to bed, super tired after such a rich day!