As usual, the first one up is Sandra. She looks out the window to check the weather and sees that our sun is gone and that it's raining. It's toasty in the hut: the gas stove (where a huge pot of water is kept boiling at all times) keeps the kitchen warm and comfy. Poor campers outside, they have to eat their breakfast in bleak conditions.
We were also very lucky that we had a room just for the three of us when everybody else in the hut had to sleep in a large group. Sandra thinks a good shower would get rid of the sulfurous film covering her skin after the Viti crater bath. But to have hot water you have to put 500 Kronur in a coin machine. She can only find 300, so she makes do with a brief cold water wash and then sets up to prepare breakfast while the Italians and French begin to flow into the mess. In the French group there are some tourists who come from Arnex sur Orbe, just a couple of villages over from ours in Switzerland: small world! The group is doing the tour of Iceland counter-clockwise (the opposite to us) and one of the Swiss ladies explains that their guide Jean-Michel is a volcano expert and they are off to the crater and a lava field today. She also admits that it's sometimes hard to put up with such a big group. The guide is really cool, he helps Sandra with the stove and to cook some eggs.
The boys are up now and we have breakfast, and enjoy watching a French woman come down and have a hissy fit that they've already cleared away breakfast, despite the fact that everybody else has finished a half hour ago… you snooze, you lose!
As we load our gear into the van, we spot a lone hitchhiker standing forlornly in the rain on the road out of town. Skye goes over and asks where she is heading: Egilsstadir, where we need to go to find a new spare tire, so we invite here to spend the day with us. We are a bit daunted by the 4 or 5 hours of bumpy driving ahead of us. Part of it is retracing our steps in known but nonetheless harsh territory, and the rest is advertised in our roadbook as being very tiring. The ominous sky and rain, and our absence of spare tire and our non-track compatible tires makes the prospect even more stressful.
Our passenger is German, living in Sweden. She is travelling one month, on a shoestring, so she must camp as often as possible, and recently has found herself waking up in a puddle of water more often than she would like. At least she spent 10 days helping with hay harvesting and reforestation in a farm, which wasn't easy but was at least dry!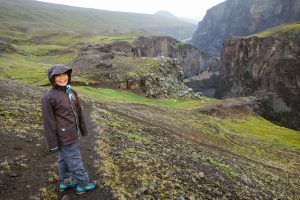 We cross lunar landscapes, climb over a plateau, and stop by the deep Hafrahvammagljufur gorge where we peer over the 200m-high cliffs. It's still raining, and the looming Snaefell mountain, the highest in the country at 1833m, is shrouded in clouds. We can occasionally catch a sight of the gigantic Vatnajökul, the biggest glacier in Europe.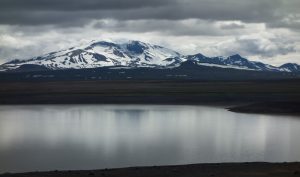 When we finally arrive at a dam on the Jokulsa river, where the track turns back into a normal paved road. We made it without bursting any tires and we are very grateful for that. There is now more verdant terrain where life seems possible again: sheep and reindeer territory. It's dotted with lakes, and should be promising territory for pink-footed geese, although we don't see any to Skye's disappointment. The weather is still very menacing, but as we start the very steep descent into the valley where Egilsstadir lies, the sky finally clears.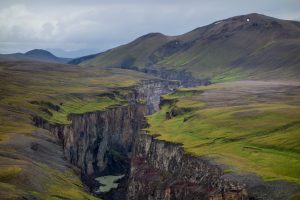 We stop at our hotel to make a reservation at the restaurant for dinner; there is a choice between the Icelandic buffet or Indian food. Though we love Indian food (and the prospect of a salmon vindaloo is intriguing) we prefer to try the local food. We eat our lunch of leftover pasta standing in the carpark and head into town to sort our car problem out. We fill up the car in case they decide to swap vehicles (wisely so, as it turns out) and drop off our passenger at the station where she can shop at the local Netto grocery store before hitch-hiking onwards.
We don't really know if we will be able to find a solution with Europcar in such a small town. At the tiny airport we talk to a lady who asks us to cross the bridge to the next small town and check with their garage if they have a spare tire. They don't, so the lady brings us another VW Caravelle from the airport. While emptying our luggage, Ryo slyly asks Sandra: "is the new car going to be the same colour: brown on the back and white on the side?" Indeed the van is white, but all the mud kicked up the back gives it a distinctive two-toned allure!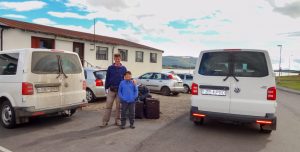 We take the opportunity of having a new car rental contract to register Sandra's license on it, so that she can help with the driving in case Skye is too tired, incapacitated or if there are lots of birds to observe!
We then do a bit of shopping as we have two more nights in huts and very little time to do purchases in the coming days. We go for goods that don't need refrigeration as we haven't run into a fridge for a while now. And despite the fact that things stay reasonably cool in this climate, we want to avoid being stuck with "tourista" at 66 degrees north latitude!
Back at the hotel we catch up on emails, blogs, counting clean underwear and washing the rest in the sink. The weather is now absolutely lovely: blue sky and nice light on the lake down below. The view is really pretty, so we head out for a small walk around the hotel grounds in the forest, past a couple of horse ranches, and through a residential area with some pretty wooden houses.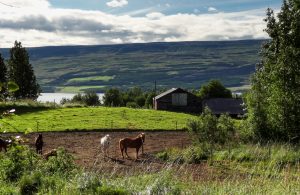 We finish up the walk sipping a beer while sitting on some rocks, taking in the sun. And to think that it's pouring back home! Our area got hit with thunderstorms and 50mm of rain fell in under two hours: Skye got an automated call from the fire brigade, calling him out to pump water out of people's cellars. Hopefully not ours!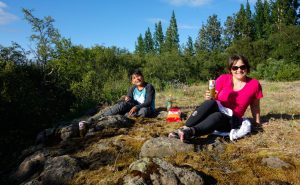 We then head over to the panoramic restaurant. We have a nice table in the covered veranda, which is perfect for enjoying the sun out of the stiff breeze that is blowing.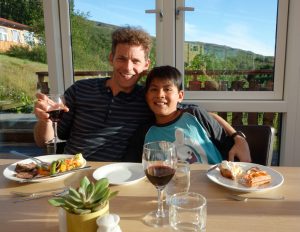 We sample a variety of fish and exotic dried meats such as dried horse, marinated lamb's tongue, double-smoked mutton, and all the fermented herring you could wish for. We order a bottle of red and study the next stops on our itinerary. After a nice dessert with an excellent rhubarb cake (pretty good said Ryo, but not as good as Grandma's rhubarb tart), we get back to our spacious room ready for a comfy night of sleep before starting the second week of our journey.

We also received some news from the Jones who are preparing the funeral for Karin's Dad and think a lot about them!