After a very early start (up at 2am!) we fly from Salalah to overcast Muscat. We collect our Nissan Pathfinder at the rental counter then have a quick breakfast at a Costa Coffee before leaving the airport for Sur. The landscape is rocky but a thin layer of grass has managed to grow with the recent rains, so the hills look like they have a touch of mildew!
This part of Oman is much more populated than the south and the tourist sights are well-trodden here. We're not alone anymore, there are people from all over, but the French seem particularly well-represented. But we also see Asians, Russians, Scandinavians… it's not a big crowd (say, compared to our trip to China last year), but it seems a lot after the deserted South. It would probably have been better to do the North before the South and save the best for last!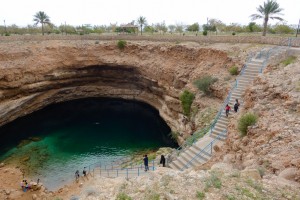 The overcast weather is actually not a bad thing. It allows us to take a well-needed nap on a bench at the Hawiyat Najm Park after checking out its sinkhole. It's got a seawater pool at the bottom, and as today is Saturday it seems to be a popular spot for the locals to come and cool off. A little refreshed by the nap we head back to the car, and some kids are selling milk (goat? camel?) in reused PET bottles.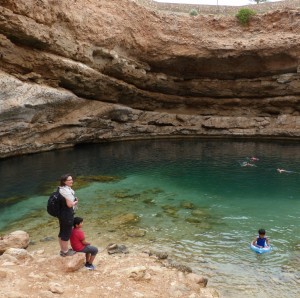 We push on to Wadi Shab and arrive just before noon. We didn't see a single shop along the way and so are happy to find a little food-truck here where we order a lunch of samosas, chicken burgers and 2 big bottles of water for about $4. We then get changed into our bathing suits and shoes for the wet, and pack our camera in a ziploc, stuffed into a small shoe bag. For $2 some enterprising locals drive tourists across the small lake, so we follow suit and begin our walk up the wadi.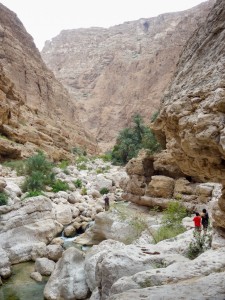 It is a deep gorge with spectacular sheer cliffs on either side of us. At the beginning of the walk there is a lot of litter, water pipes, bricks and so forth so it's not particularly appealing, but as we progress the junk thins out and we're left following the falaj, the traditional Omani irrigation system. They are open channels made out of bricks and mortar, rather like a millrun or the bisses in the Valais back home.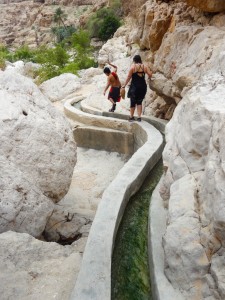 We soon reach some deep pools with no pathways to go around, so it's time to dive in. Our shoe bag does not seem like such a brilliant idea anymore. It is not easy to swim with one hand held over your head, trying to keep your stuff out of the water! We spy a couple who is in the same situation with a rucksack and collaborate with them to create a sort of human chain and pass our bags up the wadi. We finally reach the last pool, which leads to a semi-submerged cave. The other couple decides to take a breather on a rock, so we give them our bag and swim on.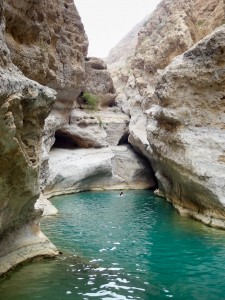 It's quite dangerous in fact as there is just a small tunnel to go through to enter the cave, it is too deep to touch bottom, and the overhanging cliff walls are slick and offer no purchase; it's sink or swim! We emerge from the tunnel into the cave, but again there is no place to rest and you have to struggle against the current to keep afloat. Ryo is doing a great job but his head goes under a couple of times and Skye is freaking out that he might get tired and latch onto him and drag them both down. So, treading water with grim determination we admire the cascading underground waterfall; it's very beautiful but we don't linger: there are plenty of videos on Youtube, thanks to other strong-swimming tourists with waterproof GoPros!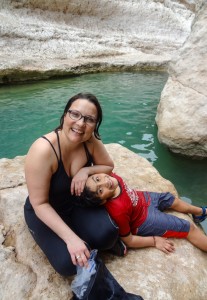 We return to our friends and offer to wait with their rucksack while they discover the cave themselves. The trip back in our wet clothes and shoes is pretty slippery and in some spots quite scary for us as parents watching Ryo skipping carelessly on the edge of a cliff. After this adventure we return safely to the car, change into dry clothes and continue the drive to Sur.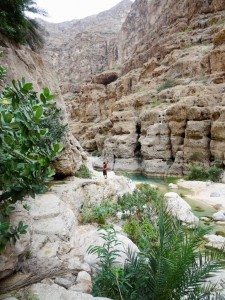 The hotel is a businessman's hotel in a sort of industrial area; definitely not the Juweira we just came from! No charm and a tad shabby, but it's clean, has good amenities, and the staff are friendly. We take a shower, get ourselves organized and have our second nap of the day; tough life! As we're in a bit of a no-man's-land we opt for supper at the hotel. We settle on the deck by the pool and the buffet doesn't look too bad. As we're close to the sea, we were kinda hoping for fish and the buffet doesn't have any. I ask the staff if we can order fish à la carte from the menu. They call out the chef and he says if we choose the buffet he will cook some fish for us! And so we end up with a platter heaped with tasty spicy Hammour (a white fish, like cod) and the firmer Kingfish (rather like swordfish steaks). And we didn't know it at the time, but the bottle of wine we enjoy with our meal will be our last until returning to Switzerland… we are entering dry country (both literally and figuratively) so our livers are set to have an unexpected week of vacation!