We're up early and attack our breakfast from the supermarket. Sandra bought some Greek yogourt, but everything was written in Hebrew and she now discovers that her breakfast is in fact a brick of salty feta in brine. Oops.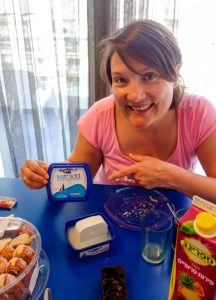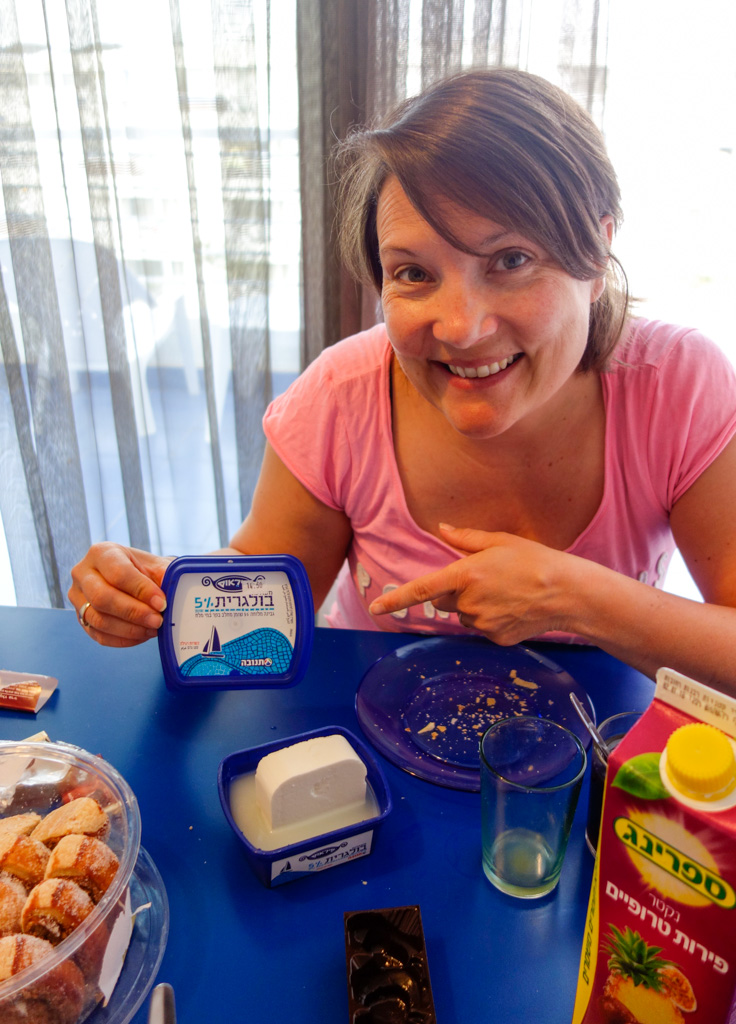 Pipo drives us to the bird sanctuary, and we meet up with a local named Michael. Skye had posted on Facebook that he was looking for someone to show us around and Michael kindly volunteered to be our host. He takes us on a tour of several ponds and water reservoirs and even a desert habitat famous for its large yellow lizards. Michael is originally from Georgia (the country, not the state), and is a freelance Russian-language journalist in Eilat. It's already very hot, and it's interesting to see that the conservation area is watered carefully to keep shrubs alive for the birds around the ponds. This northernmost tip of the Red Sea funnels many migratory birds and is a very important crossroads between Asia, Africa and Europe. Alas we just missed the big spring migration by a couple of weeks, but there is still lots to see.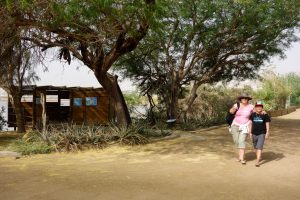 Michael takes us to a freshwater pond next to an area where cattle from Australia and New Zealand are held in quarantine before continuing on to Europe for (we assume) consumption. We are happy to see some spoonbills, and then we move on to some shallow saltwater pans filled with flamingos who are now permanent residents.
Michael tells us that there are also quite a few gazelles in the area, as they migrate from Jordan to seek refuge in Israel because people don't shoot them here. We wonder how they get through as there is a huge fence with razor wire all along the border. Michael explains that the fence is recent, but when asked what political changes motivated its construction he says "let's just talk about birds".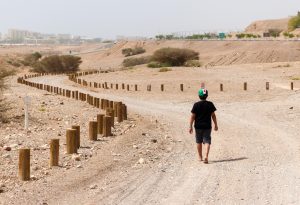 We then visit the "Dragons of the Desert" area, and see several of these very big lizards (up to 80cm) that change colour depending on the temperature. The Egyptian Mastigure is blackish when it is cool, and becomes yellow as its body temperature reaches 43C. Given that it is 40+ degrees out they are definitely yellow today! Michael has timed things perfectly and we make it back to our driver at 11 after a very nice and interesting tour.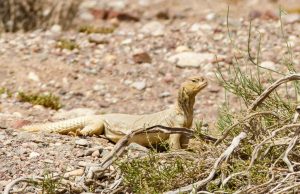 We are now off to cross the Negev desert back to Tel Aviv. Pipo is keen to give us information about the country so we ask him about the fence. It appears that that the fence is to slow the tide of African immigrants trying to reach Europe via Jordan and Israel. Israel built a similar fence along their Egyptian boarder to stop immigrants, mostly from Sudan and Eritrea, but they found a new route through Jordan which explains the new fence between Aqaba and Eilat.
The Negev is very desolate, but scattered Kibbutzim (farms) are dotted throughout. It's mindboggling to think that one can farm in such an hostile environment. And it is high tech farming too, all hydroponic with the water coming by pipeline from the Red Sea after being desalinated in the state of the art desalination plant in Eilat.
We stop for lunch at a nice coffee shop that sells copious salads and good sandwiches. After catching a glimpse of the tip of the Dead Sea again and crossing some eroded limestone lands we climb up again above sea level, past the secret (not-so-secret anymore) nuclear research facility where in the early 70s a Libyan airliner that ventured into its protected airspace was shot down by Israeli forces, killing over 100 passengers.
The plateau becomes more and more populated as we approach Be'er Sheva, mostly Bedouin shanty towns. We finally reach Tel Aviv after 4 hours driving and say goodbye to Pipo who must now drive all the way back to Eilat! We're at the Olympia Hotel again and we opt for some quiet time, tallying birds for Skye, blogging for Sandra and movie-watching for Ryo.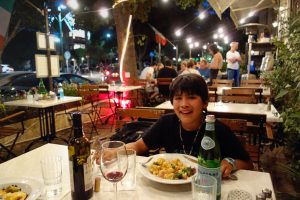 It's Shabbat so not all restaurants are open today, but Sandra finds a nice one on Ben Gurion avenue, right next to the hotel. It's a pleasant avenue, shaded by trees and with a central lane for pedestrians and bikes. The restaurant we choose has a waiting list so we backtrack to a nice Italian restaurant we passed earlier, with a leafy outdoor terrace. It's a nice warm evening, and the food is good: Ryo has some pasta Carbonara, Skye chestnut gnocchi and Sandra truffle raviolis.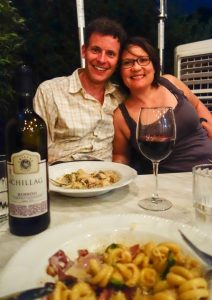 Back at the hotel Ryo goes to the room while Skye and Sandra grab a coffee in the lobby and sit outside on the terrace enjoying the warm night.  At one point Ryo comes down and asks us if we heard the alarm in the hotel. We didn't hear a thing (busy street) and we are glad that our son had the good sense to come down without using the lift. We return to our room to settle down for the night, and are woken up some time after midnight by howling winds: the weather has turned in Tel Aviv, it's time we leave!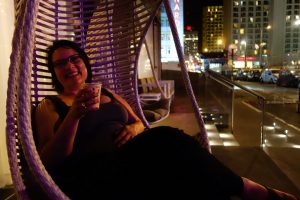 23 April 2017
Breakfast is significantly better this morning than last week when we were here on Passah: there is proper bread and a lot more choice. Our driver for the airport finally shows up 30 minutes late and we learn that he has come all the way from Jerusalem in heavy traffic. He speaks excellent English as he spent 10 years studying in the US. He lives in East Jerusalem and we learn that unlike the Palestinians, the Muslims from Jerusalem are allowed to use Ben Gurion airport, but they have a complicated situation as they actually have no nationality. The can get a temporary Israeli passport as well as temporary Jordan papers, but they are citizens of neither country: they are considered as Arabs by the Israelis and as Israeli by the Palestinians. Given the sensitive political situation in East Jerusalem they are controlled everywhere they go, and we get a taste of this as we arrive at the airport. When the guards learn our driver is from East Jerusalem our taxi is pulled aside for a search. They check our luggage for bombs and for the first time on this trip our driver is questioned more than we are.
We are relieved to arrive at the airport in time to get through all the security checks, and then use up our last shekels on falafel and shawarma before boarding the plane home after this great adventure!