The first day of vacation starts in the middle of the night… waking up at 3am is a tough way to kick off the holidays. After a quick shower, we drive to the airport and are happy to discover that at 4am before Easter weekend there are still some parking spots left… when we check the website an hour later it's already full. The security check isn't open yet and a big crowd is growing on the departure floor, but despite our fears we make it through quickly with plenty of time to spare for breakfast and to download a few movies for Ryo on Netflix.
The departure gate for Tel Aviv is situated at the far end of the terminal and subject to a special inspection: we are asked to leave the waiting room while they sweep it for (presumably) bombs and then going back in all passengers have to pass another security check for explosive residue on our hands, zippers, and belt buckles. Ryo is particularly appalled that he had to go through this, wondering why an innocent child like him could be suspected!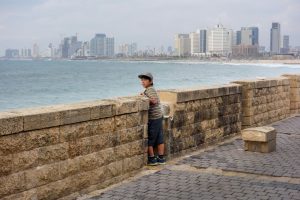 The flight is uneventful and we land on time in Ben Gurion Airport. The customs agent is quite thorough, asking several questions about our jobs and what we were doing in Arab countries as she notes the Oman visa on our passports… Our driver is not there to greet us, so after 15 minutes of looking for him with grumbling bellies we head to a bakery in the arrivals area. Skye and Sandra choose a Bulgarian sandwich with feta, olives and eggplant while Ryo opts for a kashkaval cheese sandwich, which reminds us of our trip to Albania. We eat our lunch on the hoof while watching the airport crowd. People are waiting for their families and friends with helium balloons, and the high ceiling is festooned with escaped balloons from greetings past. Some Orthodox Jewish boys walk past with their yarmulke and hair curls and Ryo insists they must be girls with such a hairstyle. The loudspeaker crackles to life, with the helpful reminder that weapons are prohibited in the airport at all times; we're glad we left our AK47 at home.
After almost an hour, and as we're starting to wonder how to contact the travel agency, Skye spots a guy with a "Sandra Logan" sign and we decide 'screw the Logans, that guy's ours!' Samir has been waiting for 10 minutes; it must have been too much work to give a quick look around for a tired family of three standing all by themselves in plain view. As we drive from the airport into old Jaffa on the outskirts of Tel Aviv, Skye passes the time spotting birds along the highway: lots of old favourites from past trips to Asia and Africa, including a green parrot! The traffic is dense, because as Samir explains it is a holiday for pretty much every religious community represented in the area. And indeed Tel Aviv is a big mix of people from around the globe, with Jewish, Muslims, and Christians speaking Hebrew, Arabic, English, French, German, Russian…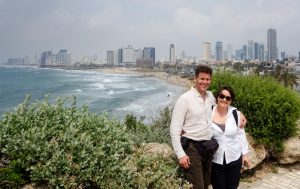 We make a quick detour through Old Jaffa and stop for a view of Tel Aviv from the old town, which Ryo misses altogether because he is sleeping like a log in the back of the van. We are happy to reach our hotel, not far from the sea and conveniently located next door to the Pussycat club, with its suggestive pole dancer logo. "What is a Pussycat club, Dad?" asks Ryo. "Hey, look, the beach!" replies Skye, skillfully dodging the question. The hotel is not reassuring on the outside but inside it's been recently renovated and the rooms and bathrooms are quite alright. We blissfully flop on our beds for a much needed nap.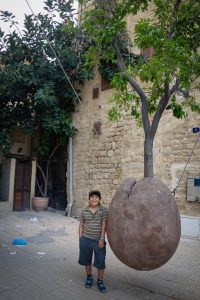 We wake up refreshed and decide to head up again to Old Jaffa for dinner. There is a city bike system in Tel Aviv, the perfect way to cover the 5km along the beach from our place to Jaffa. But the Tel-o-fun system is beyond our powers, as both our Swiss and French credit cards are refused. A French couple joins us at the automated kiosk and struggles as well: living the UK their Lloyds card is refused, but miraculously the French girl has a Barclays credit card that is accepted. They pay for two bikes and the girl takes out the first bike. The system churns for a bit then announces "sorry that didn't work, choose again." So she and her friend end up with three bikes for the price of two, and we gladly take the surplus one for Ryo because the 50 minutes' walk to old Jaffa would be much more pleasant with a kid on wheels instead of one grumbling about sore feet and are we there yet?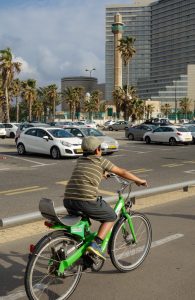 We enjoy the holiday atmosphere on the Tel Aviv promenade along the beaches. It's very lively, with Muslim families picnicking, tourists and locals enjoying a stroll or ride along the sea, kids on the beach, and surfers in the waves. The sun is playing hide and seek a bit, but overall it's mild if a bit windy.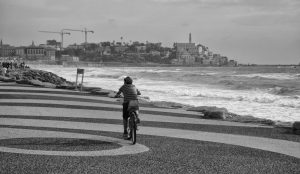 Tel Aviv is only a hundred years old or so, but Old Jaffa has existed for over 4000 years. It is well-renovated and like many places of its ilk (think Carcassonne) is seemingly composed exclusively of souvenir shops and art galleries. We enjoy a nice apéro of excellent fresh bread, babaganouj, olive oil and tomatoes in a restaurant on the corner of a busy street. It's fun to people watch while sipping our drinks: Ryo and Skye with their traditional respective Coke and beer, Sandra with a more daring Mojo cocktail consisting of rum, cilantro, lemon and a large measure of chili sauce to spice things up. A guy stops at the curb to drop his family off at the restaurant and while he pulls out the baby stroller Ryo notices that he's packing heat, with a gun tucked in his jeans under his t-shirt… welcome to Israel!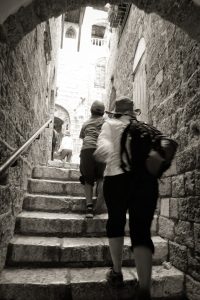 The sun is setting beautifully on the city and we move on to the old fisherman's port, where warehouses have been transformed into trendy bars and restaurants. It is packed with people, and we find a free table at The Container right on the docks. Sandra & Ryo opt for calamari while Skye has a memorable meal of blue crabs in the shell. We all have a good laugh as he fights with his 1kg pile of crustaceans (prepared in delicious green curry and coconut milk), taking courage from a bottle of Israeli Sauvignon Blanc.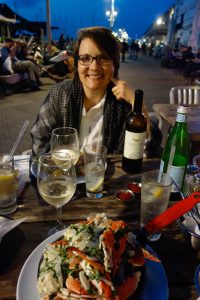 A 5km walk home in the dark doesn't enthuse us so we hail a taxi. The cabby who drives us back at the hotel is an Arab guy with Canadian citizenship, and speaks some rough French he learned in Montreal before returning to Israel: "trop froid dans Canada!"