We wake up quite late to a crisp and windy but sunny day. After breakfast we decide to visit the small Hekla exhibition at our hotel before taking off. We leave the bleak lava fields and reach more verdant farmland with pretty rolling hills, like the Shire in Tolkien.
Our first stop is in Keldur to explore a very old turf farm set in lovely pastures and flanked by a pretty old church. The farm dates from the 1100s has just reopened for visits and we can compare the original primitive kitchen with the "modern" one added on in the early 1800s.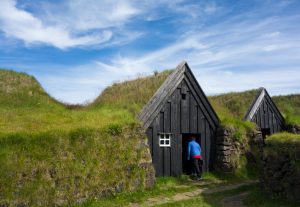 We then stop at the Urridafoss waterfall that has the highest water flow of all Iceland's waterfalls. The falls aren't high, but the powerful currents made it difficult for salmon to return upstream for breeding. Interestingly in the past this river was known for a particular breed of salmon. Now since disappeared, this race of salmon had especially long, powerful tails to be able to force their way up the falls.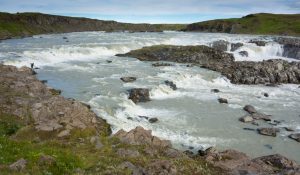 We then make a brief stop in Hveragerdi and hike a bit of the Reykjadalur path uphill amid steaming sulfur vents and bubbling mud pots, but it's already 2 o'clock and time for lunch. Sandra spotted a lovely public park at the entrance of the town with picnic tables, lovely flowerbeds, lush lawns and most remarkably: tall trees!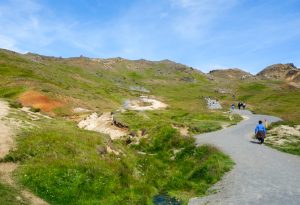 We polish off our leftover pasta from Landmannahellir, finish a carton of orange juice carton, and finish up with fig cookies. Ryo doesn't want to waste our last bit of peanut butter and so slathers his fig newtons with Skippy. After this strange meal to empty our cooler, we continue our drive to Reykjavik. The farmland and pasture transforms again into lava fields and we pass by one of the big geothermal plants that feed the capital.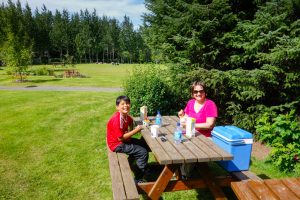 We arrive at the Brattagata guesthouse where we get the same room as on our arrival. The kind lady owner asks us for news about the Jones, who also slept there a night before returning to Switzerland two weeks ago. We manage to park the big van in front of the house, settle ourselves, clean the cooler and put our last drinks in the fridge before heading out to visit the excellent Viking settlement museum.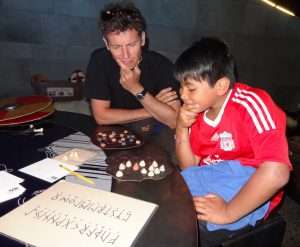 The museum is built on top of excavations of medieval Viking farm houses. Such excavations can only be done by professionals like those on https://www.archaeologist-near-me.co.uk/survey/. It's really fascinating to learn how the first settlers lived here in Reykjavik. The museum has lots of interactive displays and a fun souvenir shop with expensive but cool goodies. There is also a kids' corner with Viking toys and board games of leather and clay. Sandra practices writing in Viking runes while Skye and Ryo play a game with pebbles called fox and lambs.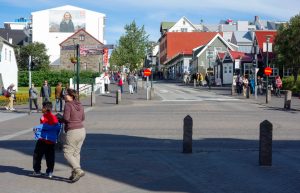 The weather is still glorious if somewhat on the cool side at 16°C. We wander the pedestrian streets of Reykjavik. Its's very busy with locals and tourists alike. The terraces are bursting with people, the parks full of very drunk locals beached on the grass or trying to steady themselves and their beer on benches… these must be relatively affluent winos considering the price of beer here! We stop at a 66°North shop to buy excellent jackets as a useful souvenir from the country. After taking in the city's atmosphere we head back to our guesthouse, crossing paths with the Swiss tourists we met in Askja, also at the end of their trip.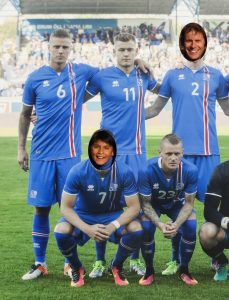 It's our traditional apéro time: we open our last bag of crisps and pour drinks in the sunny kitchen at Brattagata. Time for some photos and blogging before heading to the Messinn for dinner, a very recently opened fish restaurant that gets excellent reviews.